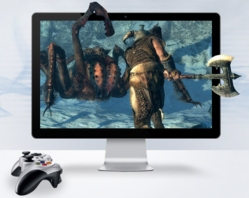 The EDN frees retailers and publishers from worrying about how they are going to stream applications, whether it will be fast and reliable, if it will work on any device or operating system, and the costs associated with server maintenance and bandwidth.
Tampa, FL (PRWEB) February 28, 2012
Up till now, a speedy and scalable streaming service like Savtira's Entertainment Distribution Network (EDN) has been unattainable for the majority of retailers and publishers. Today, Savtira Corporation's EDN includes a streaming service that offers retailers and publishers a highly scalable, reliable solution at very low costs. The EDN is available now at http://www.savtira.com/technology.php#edn.
"Savtira's patented Entertainment Distribution Network works on any connected device, anywhere, any time without the hassles of downloads and installations. This eliminates one of the many things our eStore retailers and publishers have to think about, which is huge when launching an ecommerce store," said Timothy Roberts, President and CEO of Savtira Corporation. "Our EDN provides eStore partners with fast, reliable streaming that allows them to concentrate on building their business and not worry about the technology."
The EDN is designed to make streaming of games, software, music and movies more cost effective for retailers and publishers. The EDN can be used to stream any application, at any time, to any web-connected device. Savtira Corporation is the first ever Cloud Commerce company to use a cost-effective blade environment that processes more streams with a smaller footprint than current streaming providers. Savtira's service aims to maximize the blade environment's benefits of scale and to pass those benefits on to its eStore retail clients. Savtira has also improved streaming performance and holds patents which improve Microsoft RDP and HyperV.
In addition to streaming, Savtira's EDN also powers cloud-based storage of digital media. Savtira also builds Cloud Commerce eStores that are custom-branded for clients with a built-in a la carte catalog of up to 20 million digital and physical products.
"Savtira's patented EDN gives retailers and publishers the technology to instantly stream games, software, music or movies that is far beyond anything they could hope to build themselves. Our clients can focus on growing their business rather than figuring out how to deliver digital products," said Michael Avina, Chief Technology Officer of Savtira Corporation. "The EDN frees retailers and publishers from worrying about how they are going to stream applications, whether it will be fast and reliable, if it will work on any device or operating system, and the costs associated with server maintenance and bandwidth."
Savtira's EDN provides retailers and publishers the following benefits:

Inexpensive: Savtira's blade servers can stream multiple applications and the cost of delivering streamed applications is based on actual request rate. Savtira's solution lets eStore retailers pay only for what they consume. All the other streaming providers use expensive stand-alone servers for each streamed application. They are pre-paying for the server, hosting, software license and guessing as to the demand from consumer. If they guess wrong they lose money.
Speedy: Savtira's streaming speeds clock in at under 2 MB/sec, five times more efficient than the rest of the market. Savtira uses Auto-Spin-Up technology which allows us to offer our entire catalog and on user request and spins up virtual machines on the fly in under 15 seconds.
Scalable: Savtira's blade environment can scale in terms number of streams, request rate, and users to support heavy volume of application streaming.
Reliable: Savtira's application servers offer 99.999% availability with no single points of failure. The system is self-healing allowing for 99.999% uptime.
Device / OS Agnostic: Consumers with an internet connection can stream games, software, movies and music from the cloud to any device. It does not matter which Operating System their device uses.
Un-tethered: Savtira's application streaming is not tethered to a console such as the Xbox, Playstation, Wii, or other interface devices. This gives retailers and publishers access to a much larger market since consumers no longer need to buy a console to access content.
Savtira Corporation currently holds the only existing application streaming patent utilizing a blade environment, as well as patents for the storage system, database, audio/video encoders, and user interface. Savtira's patent allowed it to overcome the challenges presented by cloud-based entertainment service providers seeking to tailor their content "delivery" in order to meet the limitations and functionality of various devices.
About Savtira
Savtira is in the business of digital distribution with a Software-as-a-Service (SaaS) ecommerce platform that provides a turnkey system for the distribution, marketing, merchandising, and sale of digital media and physical goods in a single store, and in a single, unified shopping cart. Savtira-powered eStores are designed to meet the specific needs of retail partners and are custom-branded for each one. To facilitate the delivery of digital content, Savtira is building a new-generation, carrier-class Entertainment Distribution Network (EDN), streaming all digital media from the cloud, with a feature set that eclipses anything on the market. The company is headquartered in Tampa, Fla., and has an office location in the United Kingdom. For more information on Savtira, visit: http://www.savtira.com or call 813.402.0123. Follow us on Twitter at: http://www.twitter.com/savtira.
Savtira is a registered trademark. All other product and service names mentioned are the trademarks of their respective companies.
# # #