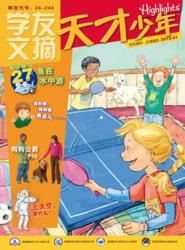 Columbus, Ohio (PRWEB) February 29, 2012
Today, at a launch event in Beijing attended by U.S. Ambassador to China Hon. Gary Locke, Highlights for Children unveiled a version of Highlights magazine in Simplified Chinese – Highlights Talent Youth.
For 65 years, Highlights magazine has been a familiar presence in dentists' waiting rooms and in the homes of millions of families. Its features, including Hidden Pictures, the Timbertoes and Goofus and Gallant, have become staples of American childhood.
While Highlights Talent Youth introduces those beloved features to Chinese children, it also includes content developed specifically for a Chinese audience. "When my great-grandparents started Highlights in 1946, one of the things they hoped to do in the pages of the magazine was celebrate children's experiences in many different cultures around the world," said Highlights CEO Kent Johnson. "I think they would be so pleased – and maybe astonished too -- to see how far their 'Fun with a Purpose' magazine has traveled."
To date, Highlights has sold more than one million puzzle books and other products in China, including a magazine for younger children called Highlights Talent Baby, also developed with Xueyouyuan, a leading Chinese publisher of materials for children.
Devoted to "Fun with a Purpose," family media brand Highlights for Children, Inc. (http://www.highlights.com/) has helped children become their best selves for generations. Highlights magazines are the best-read children's magazines in North America, and total more than 250 million impressions each year. Other Highlights offerings include a web site for kids (HighlightsKids.com), a children's book company (Boyds Mills Press), puzzle book clubs and mobile applications like My First Hidden Pictures. "Fun with a Purpose," Hidden Pictures and Goofus and Gallant are a registered trademarks of Highlights for Children, Inc.
###