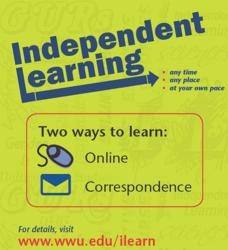 As a student with a full-time job and busy life I can now reach my goal without the hassle of campus.
Bellingham, WA (PRWEB) February 29, 2012
Western Washington University's Independent Learning courses provide opportunities for current and future university students, professionals looking for a career boost, educators planning for that next step up and lifelong learners seeking enrichment or a new challenge. The format of learning "any time, any place, at your own pace" allows flexibility to those enrolled, helping alleviate scheduling problems due to other university courses, work or family obligations. Credits earned through Western Washington University's Independent Learning are transferable to most colleges and universities.
Independent Learning currently provides nearly 70 class options, including these popular topics:
Anthropology 201: Introduction to Cultural Anthropology
English 350: Introduction to Creative Writing
English 351: Introduction to Fiction Writing: The Short Story
Environmental Studies 202: Introduction to Environmental Studies and Sustainability
Finance 215: Personal Finance
Liberal Studies 232: Myth and Folklore
MIS 220: Introduction to Business and Computer Systems
Music 205: Survey of Non-Western Musical Cultures
Psychology 119: Psychology of Gender
Sociology 260: The Family in Society
Western Washington University is a four year, public university that welcomes students at the front door of discovery. Western invites students to connect, create and join in community with others who thrive on learning. Students and faculty are fully engaged at Western, working side-by-side to develop new ideas that challenge their understanding of themselves and their world. Western thinks of education as an adventure.
Independent Learning, a program of Western's Extended Education unit, connects learners of all ages to the Western Experience by collaborating with colleges, departments and the community, linking university resources with educational needs and opportunities both on and off campus. Extended Education is committed to the same high standards of quality for which Western is well known. Extended Education offers participants' options to finish their degrees, start new careers, and advance in their current professions.
To register for a course or learn more about the rewards of Independent Learning, (360) 650-3650, ilearn(at)wwu(dot)edu, or vist http://www.wwu.edu/ilearn.
###