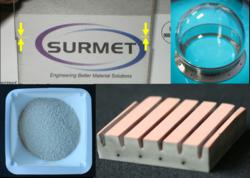 Surmet focuses exclusively on customers with a critical need for advanced materials with difficult to achieve performance characteristics.
Burlington, MA. (PRWEB) February 29, 2012
Surmet focuses exclusively on customers with a critical need for advanced materials with difficult to achieve performance characteristics. Surmet scientists have invented, developed and successfully brought to market multiple products over the years. With the divestiture of its semiconductor division in 2007, Surmet is now best known for its leadership in, ALON®, (aluminum oxynitride) the most advanced lightweight Transparent Armor candidate in the world. ALON® is half the weight and half the thickness of conventional glass armor and also provides 50% higher situational awareness in night vision conditions.
ALON® is nearly as hard and strong as sapphire and because of its cubic crystal structure, is transparent in its polycrystalline form, and is not bi-refringent. Components are produced from ALON® using conventional and versatile ceramic powder processing techniques into complex geometries, and in larger sizes than is possible with sapphire. Surmet has invested heavily to establish a robust manufacturing capability for ALON® which has already been inserted into a number of military applications such as missile domes, visible and infrared sensor windows and advanced transparent armor.
In addition to transparency, ALON® Optical Ceramic combines excellent mechanical, physical, electrical and chemical properties. ALON® is finding multiple applications beyond Defense industry. Surmet's innovation in hermetic and high strength bonding techniques between ALON® and Metal and ALON® and ALON® are opening up new application opportunities in many industries. Being chemically more inert than both sapphire and quartz, ALON® is significantly more durable in corrosive and ion/plasma environments. ALON® components have potential applications in the oil and gas drilling environments as well as in semiconductor and medical optics equipment industries.
Another hi-tech ceramic with a bright commercial future is Aluminum Nitride or AlN. There is a growing demand for AlN because of its high thermal conductivity and strong dielectric properties. AlN is eight to ten times more thermally conducting than alumina ceramic. Applications in Optics, lighting, electronics and environmental technologies are beginning to open up for AlN. Surmet is the only tonnage quantity supplier in the US with the ability to synthesize, process and treat the high quality AlN powder. Surmet has extensive facilities and is capable of fabricating sintered AlN components with desired excellent properties in complex shapes and sizes.
Surmet is head quartered in Burlington, MA, and has R&D and manufacturing facilities in Buffalo, NY and Murrieta, CA. Surmet's talented, responsive and innovative technical and customer relations staff are ready to work with your specifications for your next generation advanced products.
For more information, visit our website http://www.surmet.com and find out What can Surmet do for you?
###