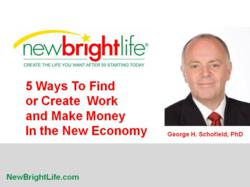 No offense to Tim Ferriss...it's certainly not a '4-Hour Workweek', at least not at the beginning...
Lakewood Ranch, Fla. (PRWEB) February 29, 2012
In a recent video seminar, New Bright Life's founder George Schofield teaches people about employment over 50, finding or creating work, and making money in the new economy. These five employment options are jobs, self employment, expertise consulting, being an entrepreneur, and becoming an investor of sweat equity rather than money.
Dr. Schofield is an expert in successful aging, extended employment, and personal development. According to Schofield, relying only on traditional jobs isn't the best strategy for finding work and making money because there is more and more competition in the current economy.
According to Schofield, 14 million Americans are looking for work. 83% of boomers plan to work after retirement. More people over 55 are employed than ever before…up 3.1 million since the recession began. This is why it's important for people over 50 to have multiple employment options in addition to just looking for a job.
Schofield recommends that people consider pursuing more than one of these ways at the same time. He also suggests that people over age 50 need to understand that the ways they work and make money will have to change over the remainder of their working lives.
According to Schofield, people looking for new employment opportunities run the risk of romanticizing self employment, consulting, and being an entrepreneur…thereby thinking they are good options for making easy money, fast. Says Schofield, "No offense to Tim Ferriss…it's definitely not a '4-Hour Workweek', at least not at the beginning.
For more information, please visit http://www.mynewbrightlife.com/fe/21879-5-ways-to-find-or-create-work-and-make-money
About New Bright Life, LLC and George H. Schofield, PhD
New Bright Life gives people the tools for successful aging: so they can live their best possible lives, find or create jobs over 50, enjoy great relationships with family, friends, and loved ones, and get ready for the future, even when things don't go according to plan. Founder George H. Schofield, PhD has over 40 years of knowledge and experience in lifelong development, successful aging, and extended employment—and how these affect individuals, employees, and businesses. He is an expert, innovator, and thought leader on employment over 50, personal development, and business transformation.
Dr. Schofield is a speaker, consultant, entrepreneur, and the author of 'After 50 It's Up to Us, Developing The Skills and Agility We'll Need'. He is the former President of the Advisory Council to the Commission on Aging and Adult Services for the City and County of San Francisco, and former President of the Association of Advisory Councils to 34 Statewide Commissions on Aging and Adult Services throughout California. He also holds a faculty appointment at the University of South Florida, Sarasota-Manatee.
Contact:
Benjamin Gioia
Vice President
New Bright Life, LLC
941-388-8108
ben(at)newbrightlife(dot)com
http://newbrightlife.com
# # #