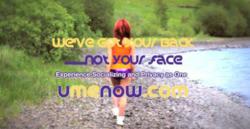 Privacy Mom to Facebook: "Let's have an honest discussion about privacy and allow the people to hear where we stand."
Pembroke Pines, Fl (PRWEB) February 29, 2012
The new startup UmeNow confirmed today that it sent a message to Mark Zuckerberg via Facebook inviting him to a public debate on all issues privacy related. "I'll be firm but gentle, like a mother talking to her son. I promise," says Privacy Mom, Evelyn Castillo-Bach, head of the super-private social network UmeNow. "I've invited Mark to openly debate me at a location of his choosing, anytime, for however long he wants with no rules, on the issues of privacy and how his company and mine differ. Let's have an honest discussion about privacy and allow the people to hear where we stand, so they can decide who is serious about this issue," stated Castillo-Bach who launched UmeNow in July 2011. UmeNow hopes to engage Zuckerberg and his company in a healthy and open debate in the spirit of the current presidential election season on this vital issue.
UmeNow is making waves by publicly stating that tracking people who join social networks is an unethical business practice. "We believe we have an ethical responsibility to expose the unethical business practices of tracking and data mining. We are more than a private social network. We publicly defend the privacy rights of the American consumer whose most personal and private information is mined like gold for profit by advertisers and social networks like Facebook," explains Castillo-Bach. In the About Us section of UmeNow, it states: "We believe that public social networks expose everyone to an unacceptable level of risk." UmeNow is a private not public social network. Membership is by invitation only. However, during its current beta phase membership is open.
UmeNow is the only social network that has banned all tracking and all ads. It recently changed its platform to allow anyone to join for free. Previously, free membership was limited to 30 days. Now, free membership has no time limit. UmeNow's 2-tier membership structure promises the same privacy protection to its free members. Premium level members who subscribe for $6.00/ month have access to all site areas.
Company Information:
UmeNow entered into its silent launch in July 2011. Evelyn Castillo-Bach is also the founder of Collegiate Nation --known as GoCNCN.com-- the first and only private network exclusively for college students. Both UmeNow and Collegiate Nation are known for fiercely protecting the privacy rights of its members. All ads, third party apps and games are banned because they are back doors to tracking and extracting private information. Evelyn Castillo-Bach earned her M.S. in 1993 from Columbia University Graduate School of Journalism. She has traveled extensively in Ethiopia and in the Balkans, accompanying her Danish husband who is a lawyer.
###