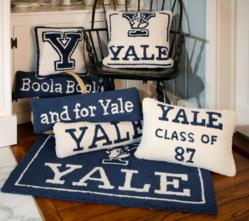 Now, when college bookstores are looking to diversify their product lines, we have the perfect high quality sales vehicle!
Manchester Center, VT (PRWEB) February 29, 2012
Chandler 4 Corners announced today that the company will officially launch its new Collegiate Line of pillows and rugs at the national CAMEX convention in Salt Lake City, Utah in early March. Produced by the National Association of College Stores, CAMEX is the retailing industry's largest trade show specifically aimed at colleges and universities. Chandler 4 Corners will be displaying hand-hooked pillows and rugs featuring the logos and mascots from Yale University, Middlebury College, St. Lawrence University, and the University of Wyoming. David Chandler, VP and Head of the Collegiate Program, waxed enthusiastic saying, "We look forward to talking to representatives from the more than 1,000 college bookstores that will be there! We do our best when buyers can actually see and feel the fine quality of our Chandler products. Now, when college bookstores are looking to diversify their product lines, we have the perfect high quality sales vehicle!"
Development offices, too, will find that Chandler collegiate products make perfect donor thank-yous and premiums. The audience for Chandler 4 Corners rugs, pillows and accent furniture is traditionally high-end. The products are carried by such upscale retailers as Gumps and Sundance Catalog. People who shop in those marketplaces appreciate the value of a Chandler pure wool pillow, and so will college donors, especially when it bears the name of their alma mater.
The Collegiate Line is a direct outgrowth of Chandler's popular Private Label pillows. The Private Label line is a proven retail winner as shops get exclusive rights to promote their region, town or resort on a Chandler pillow. Shop-owners from Nantucket to Napa Valley, from Whistler to Aspen to Killington, have all found that customers love a high quality remembrance of a vacation or special place. Colleges and universities can anticipate the same warm welcome for Chandler products from students, alumni, development offices and parents.
If you are one of the more than 7,000 attendees or exhibitors who will be at CAMEX from March 4-6 in Salt Lake City, be sure stop and welcome Chandler 4 Corners to its first CAMEX experience. Visit the Chandler booth and imagine of how well a college's name looks, hooked in wool. Anyone who misses CAMEX this year, can view the new line at c4cwholesale.com/collegiate.
Chandler 4 Corners has been offering handmade pillows, rugs, and accent furniture to discriminating buyers since 1991. Made of pure New Zealand wool, the pillows and rugs have striking motifs by noted designer Laura Megroz. In addition, they are inherently durable, made of sustainable wool, come in glowing colors, and offer wool's famous ease of care. Visit online at http://chandler4corners.com or call to request a catalog.
###