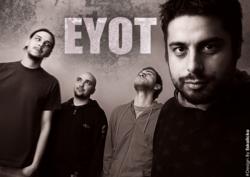 EYOT has made an emphatic and impressive recording debut.
- All About Jazz
New York, NY (PRWEB) March 19, 2012
Just as Serbian native tennis player Novak Djokovic has emerged from behind the curtain of Eastern Europe to great success, EYOT, a quartet of Serbian native musicians have risen to international prominence with their recent appearances in Cannes and elsewhere. EYOT, the winners of the 2012 MIDEM Festival OFF Competition, have announced that their DVD "Live in Nish" is available for pre-orders. The following is a teaser of the new DVD: Live in Nish Preview
Within the chiaroscuro between east and west, good and evil, members of the band EYOT spin a web of hushed tones and howls with their new brand of eastern jazz. All About Jazz did a recent review of EYOT's debut album here: AllAboutJazz Review
This is not our parents' jazz. There are no smooth licks here. EYOT is full-to-the-hilt emotion, stemming from the troubled past of the band members' childhoods and the real, pent-up emotions of a period in history many eastern Europeans would like to forget. From the soft solo piano stylings bandleader Dejan Ilijic ekes gently from the keys to Sladjan Milenovic's hypnotic microtonal Bill Frisell-esque guitar atmospheres, and with the metamorphic rhythm section of Marko Stojiljkovic and Milos Vojvodic, this band of brilliant young musicians is "all-in" for every tune.
This is the music of ancient civilizations, of traditional moonshine, of dervishes and religious festivals. It is the music of blood running through the streets and of hatred. It is the music of love, reconciliation, friendship and peace. It is the marriage of east and west, and the meeting of ancient and modern. The twisted steel of the musical arrangements in EYOT's first record have earned them ebullient praise from critics, and their live shows cannot be missed. The intensity is palpable.
The haunts of John Coltrane and the spirit of Kurt Cobain permeate the now-Keith-Jarrett-like and then-free improvisatory sets of eccentric Serbian pianist Dejan Ilijic and his band EYOT. Their dynamic sets have earned them praise in their home country and around Europe, and audiences leave energized and enlightened.
Notable Performances:
2009 Umbria Jazz Balkanic Windows
2009 Nishvill Jazz Festival
2010 World of Jazz / Dubai Jazz Festival / UAE
2010 Jazz & Blues Festival Petrovac
2010 Nisomnia Rock Festival
2010 Jazz Festival Novi Sad
2010 Jazziré Festival Subotica
2010 Jazz & Blues Festival "Geza Balaž-Gari"
2011 DOKfest Munich / Germany
2011 Sounds of Summer
2011 Belgrade of light festival
2011 Alarma Punk Jazz Fest / Sofia / Bulgaria
2011 Serbia in Thessaloniki / Greece
2011 Veisa Jazz / Saransk / Russia
2012 MIDEM OFF / Cannes / France
EYOT's new DVD "Live in Nish" is available for pre-order from their website http://www.eyotmusic.net
EYOT is represented by Dr. Kent Gustavson and Ninety and Nine Records in the United States. Contact us for interviews, review copies of their CD or DVD, or anything else.