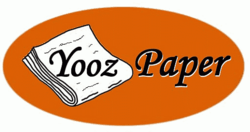 Yoozpaper allows us to release a free monthly newsletter instead of a multi thousand dollar quarterly newsletter. - Erie County RSVP Program
Buffalo, New York (PRWEB) March 13, 2012
What Yoozpaper Has
Yoozpaper is based on providing members an easy platform to create their own free online newspapers. Formatted like a newspaper, members (known as Yoozers) write articles which can contain images and YouTube videos. The Yoozpaper Front Page is an ever updating paper of the most popular articles across all personal online newspapers. It is broken out into individual sections, similar to a newspaper. Yoozpaper Direct is a blog-like page where Yoozers post short articles which are tied to a specific paper. The goal of Yoozpaper is to become the premier article-writing website that there is, while becoming the go-to free article directory for people browsing the internet.
Other features of Yoozpaper include creating customized papers, saving online newsletters and creating an online scrapbook of your photos to share these with fellow Yoozers. Yoozers may also create newspapers and photo albums as a group, with the same functions as an individual Yoozer's newspaper and photo album.
Who Uses Yoozpaper?
Yoozpaper is perfect for individuals or groups who want to write articles and upload photos in an organized format. It is a great tool for reporters and media personnel who want to add another medium to the news that they currently report. Another reason to use Yoozpaper is if you are a member of a group and want to create a free online newsletter. Finally, Yoozpaper is perfect for businesses who want to draw more traffic to their website by issuing free press releases in a newspaper format. These are better than an average press release, as Yoozers can comment on articles and follow links directly to social media accounts.
Yoozpaper Continues To Grow
Yoozpaper is a new social media website. The main goal of Yoozpaper is to provide a place for people to write articles in an organized way which will be formatted as online newspapers. New Yoozers are joining Yoozpaper every day. With the importance of social media in today's world, being a Yoozer will be a great place to not only get your news and opinions out on the web, but to socialize with other members of the web.
Like us on Facebook at Yoozpaper and follow us on Twitter @Yoozpaper