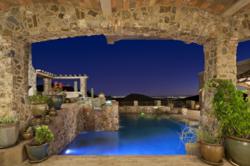 The Sale of this 10.9 Million Dollar Estate in Scottsdale, Arizona will Produce a $50,000 Donation to Make-A-Wish Foundation® of Arizona
Scottsdale, AZ (PRWEB) March 01, 2012
When "Villa Paradiso," one of the most significant, custom luxury homes in Scottsdale, Arizona, is purchased, real estate agents, Marcia K. Canady (Lone Mountain Development) and Lisa Wadey (Russ Lyon Sotheby's International Realty) will donate $50,000 to the Make-A-Wish Foundation® of Arizona.
The buyer will enjoy living in the best home, in the best private golf community (Desert Mountain has 6 Jack Nicklaus Golf Courses) and help grant more wishes to children with life-threatening medical conditions.
"We are so grateful for the support from the owner, builder and real estate agents associated with the sale of this beautiful home," said Elizabeth Reich, President and CEO of the Make-A-Wish Foundation® of Arizona. "This generous donation will help us grant more wishes and change the lives of many Arizona families."
This one-of-a-kind dream Estate is reminiscent of a classic European villa. The home boasts over 18,000 sq. ft. under roof with 11,800 sq. ft. of indoor living space (6 bedrooms, 9 bathrooms) and over 4,000 sq. ft. of verandas, spectacular views from its 3,400 ft. southern exposed 5.64 acre lot, an award winning gourmet kitchen, the largest movie theatre in Scottsdale and a separate guest house.
Spectacular in every respect, the workmanship of this exquisite home emanates precision and quality that includes French provincial antique stucco, European style stonework, 12 masonry fireplaces and 150 year old exposed beams.
Builders, Luis and Gina Yanez (Yáñez –Chin Development) and Patrick and Natascha O'Brien (O'Brien Development) have formed a unique relationship; one that has spanned 15 years.
They have built several homes in Northern California for high profile clients and have built luxury homes in Scottsdale, Arizona since 2002. The team has the enviable reputation for consistently building excellent luxury custom homes.
"We know our clients. They want a home that is built with the highest quality design, craftsmanship and materials. They also want to move in without any further disturbances from contractors, electricians etc. Villa Paradiso was built to exceed the buyer's expectations," expresses Patrick O'Brien, who is not only the designer of Villa Paradiso, but he is also a "hands-on" builder.
"When you are at Villa Paradiso, you feel as if you are in a European villa… and at sunset, it's pure magic. It is truly an architectural masterpiece and we are honored to represent it," says Marcia K. Canady, REALTOR®, Lone Mountain Development (Listing Agent).
"The home is exceptional in so many ways and the community of Desert Mountain offers 6 Jack Nicklaus Championship Golf Courses, each with its own unique clubhouse, a tennis center known as "The Wimbledon of the West," a world-class fitness center and spa, hiking trails and much more. The lifestyle in Desert Mountain is like no other," stated Lisa Wadey, REALTOR®, Russ Lyon Sotheby's International Realty, (Co-Listing Agent).
As the home is truly an authentic European villa, it could only be furnished with authentic European antiques.
Alicia Guerrieri (CEO and Founder) and Danielle Walls of iSearchDecor, arranged for two of their local merchant partners, European Home and Mediterrania Antiques of Scottsdale, Arizona to furnish the home with European furniture from Spain, Italy and France.
iSearchDecor is an online company that helps its customers find local merchants and services professionals who assist with home décor needs.
Yanez-Chin Development and O'Brien Development have developed and built Luxury Homes in Atherton and Los Altos Hills, California and Scottsdale, Arizona.
Villa Paradiso is listed with Marcia K. Canady, Lone Mountain Development and Lisa Wadey, Russ Lyon Sotheby's International Realty.
The Make-A-Wish Foundation® of Arizona grants the wishes of children between 2½ and 18 years of age whose physicians' affirm that they have a life-threatening medical condition. A "wish" is a critically ill child's answer to the question, "If you could have anything in the world, go anywhere, be or do anything… what would you choose? What would you do?"
# # #