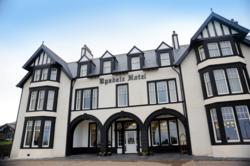 "The anticipation by travellers leading up to the re-opening of The Ugadale Hotel has encouraged us to offer a package worth celebrating,"
Argyll, Scotland (PRWEB UK) 2 March 2012
The Village at Machrihanish Dunes, which recently re-opened the historic Ugadale Hotel in Machrihanish, is offering stay and play packages to celebrate its Grand Opening, that took place on 25 February 2012.
Once regarded as the pinnacle of luxury accommodation in the west of Scotland, The Ugadale Hotel at The Village at Machrihanish Dunes has been lovingly restored to its former glory, with 22 stunning guest rooms and suites, a full-service spa, restaurant and bar.
For a limited time, The Ugadale Hotel is offering a very special promotion: book one night at the Hotel between now and 30 April and receive your second nights' stay for just £20.12. And that's not all – for the links golf lover, play our U.K. Top-100 Machrihanish Dunes golf course during your stay for just £20.12.
'The anticipation by travellers leading up to the re-opening of The Ugadale Hotel has encouraged us to offer a package worth celebrating," said Marc Wexler, Project Executive for Southworth Development, LLC. "Our phones have been ringing off the hook and our Web site bursting with hits on when we would open our doors, so it seemed only natural to reward our customers with stay and play offers like this that will make the grand opening truly special and memorable."
To reserve your stay at The Ugadale Hotel please contact 0800 151 3701 within the UK or +44 (0) 1586 810 000 international or visit us online at http://www.machdunes.com.
About Machrihanish Dunes
Scotland's award-winning seaside resort offering luxurious seaside cottages, the world's most natural golf course and two-historic hotels all comprised to create The Village at Machrihanish Dunes. Located on Scotland's magnificent Argyll coastline, The Machrihanish Dunes Golf Club; The Ugadale Hotel; The Ugadale Cottages and The Old Clubhouse Pub are situated in the quaint town of Machrihanish.
A mere five miles from Machrihanish in the heart of historic Campbeltown, another beautiful, pre-1900 hotel is also being restored. When it opens in May, The Royal Hotel overlooking Campbeltown Harbour will serve as the in-town hotel option for those visiting The Village at Machrihanish Dunes. With a growing collection of accommodations, fine restaurants and lively pubs, The Village at Machrihanish Dunes and The Royal Hotel will provide a warm welcome and first-class service to business and leisure travellers world-wide.
Media Contact: Nancy Powers, Public Relations, npowers(at)southworthdevelopment(dot)com
###