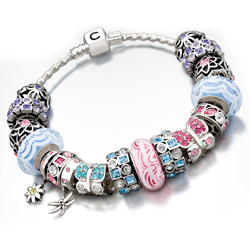 With just the right mix of color, sparkle and lace, the Chamilia Garden Party Collection has exactly what you need
New York, NY (PRWEB) March 26, 2012
The new Chamilia Garden Party Collection is now available and in stock at A Silver Breeze Online Store. Spring is in the air, and the new Chamilia Garden Party Collection has all the new trending beads for this season. Bold pastel colors and floral textures are the main focus of this collection, highlighting the joyful spirit of Spring.
With just the right mix of color, sparkle and lace, the Chamilia Garden Party Collection has exactly what you need to create a unique jewelry piece that embodies the energy and optimism of the season. Each bead of the Garden Party Collection compliments the soft and feminine floral palette of this season's trending runway styles.
Whether you're looking to start a new jewelry piece or add to an existing one, the Chamilia Garden Party Collection is the perfect design inspiration you're looking for. Each bead has something special to it, from hidden motivational messages, sophisticated Swarovski Elements and elegant glass bead designs. The Chamilia Garden Party Collection also includes a graceful drop pendant necklace that makes a wonderful addition to your new bracelet design.
About A Silver Breeze
A Silver Breeze was founded with a philosophy in mind: give women the freedom to be themselves and embrace a sense of style that's unique to each woman. A Silver Breeze offers women quality sterling silver jewelry that is interchangeable, like the Kameleon, Miss Chamilia, Bijoulee, Chamilia, Spinning Jewelry and the new Chamilia Garden Party Collection.
Stores are located at the Aviation Mall in Queensbury, New York, at the Wilton Mall in Saratoga, New York, and online at: http://www.asilverbreeze.com. Be sure to browse the online store to see all the available collections. Free shipping is available anywhere in the USA. A Silver Breeze ensures every customer's shopping experience will be an unforgettable one.
###