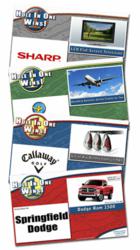 Now every player in your event will receive a gift coupon.
Bryn Mawr, PA (PRWEB) March 02, 2012
US Hole In One, a leading provider of hole in one insurance coverage, has announced a partnership with Golfdiscount.com that will offer their customers with a discount coupon redeemable on the company's website. US Hole In One is well known in the hole in one insurance industry for their "prize package" which is essentially a bundle of freebies that their customers receive when purchasing a grand prize policy. The company has now added one more goodie to the list with the Golfdiscount.com coupon. CEO of US Hole In One, Greg Esterhai anticipates positive feedback from the new incentive, "I'm excited to offer the Golfdiscount.com coupon to our clients! We can't guarantee a hole in one winner at every tournament but now with this promotion, every golfer will get a perk just for playing."
Golfdiscount.com is a complete online golf shop with items ranging from golf clubs and bags, apparel for both men and women, and all of the small essential accessories. The website offers top name brands like Nike Golf, Titleist, Cleveland and Callaway so the customers can shop based on their preference. The company also offers features like free shipping, daily deals, and personalization for balls, clubs and shoes. The coupon offered by US Hole In One is $15 off a $50 purchase. When checking out the website Esterhai was quoted, "it is golfers dream website, they have great products and there is something all golfers, beginner or pro."
One of the main reasons US Hole In One chose to partner with Golfdiscount.com is the company makes redeeming the coupon extremely convenient. US Hole In One will send the coupons out to their clients in the boxes with their signs however many customers book hole in one insurance last minute or choose not to receive signs. In these cases US Hole In One will have the option to email a code to their customers so everyone can take advantage of the discount.
US Hole In One and Interactive Promotions Group are leading providers of prize insurance for golf tournaments and other sporting events. Each year, the company covers over $350,000,000 in grand prizes for golf and other sports contests. Additionally, US Hole In One and Interactive Promotions Group specialize in high-quality, temporary-use event sponsorship signage and offers thousands of promotional items to event organizers across the country.
###