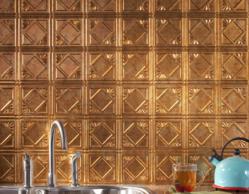 A backsplash project kit is a quick remedy for cabin fever," said Rob Rebman, company president. "And, at 20% percent off the regular price, it's an affordable and easy DIY project that's perfect for this time of year.
(PRWEB) March 01, 2012
Backsplashideas.com is offering its backsplash tile project kit, Fasade Traditional 4 Style in Muted Gold, for $119 as part of its March "Cabin Fever" promotion. The 20% discounted price is good thru March 31, 2012.
Consumers who are waiting for an end to winter can get some relief from "cabin fever" this month by updating their kitchen décor with an affordable, DIY backsplash project kit in the popular Fasade Traditional 4 in Muted Gold style and finish combination.
With a variety of warm, amber hues, the Muted Gold finish ignites interest and brings a new level of glamour to any décor. The Traditional 4 style highlights repeating diamonds amid squares and abstract floral patterns in a Victorian-era design.
The backsplash tile project kit contains everything needed for a typical 18 square foot installation including:

Six - 18" x 24" backsplash panels (18 square feet)
Four matching 4' edge trims
Two matching 18" inside corner trims
Two rolls double-sided installation tape (40 feet each)
One pack matching outlet cover laminates (enough to cover 6 outlet covers or plates)
"This time of year, people sometimes feel like the walls are closing in. Spring is around the corner and so is the urge to freshen up your home," said Rob Rebman, company president. "Our March promotion allows customers to do just that. A backsplash project kit is a quick and affordable remedy for cabin fever."
The March special is the second in a series of monthly promotions from a campaign that launched in February. The monthly promotions will correlate with the calendar and change on the first of each month, and an aggressive pricing strategy will accompany the online specials.
Fasade decorative Kitchen Backsplash Panels are constructed from thermoplastic and are durable, corrosion-resistant and easy to cut. They will not rust or stain, and are impact, mildew, mold and water-resistant. These backsplashes present an affordable, do-it-yourself, weekend project that will refresh your kitchen or bath stylishly and affordably.
BacksplashIdeas.com offers free shipping and returns every day and takes all major credit cards, Google checkout and PayPal.
BacksplashIdeas.com is an exclusive online retailer of ACP products. ACP's products blend ingenuity with style — giving customers finished projects that feature easy installation, quality, affordability and timeless appeal. Company contact information: ACP - 555 Bell Street, Neenah, WI 54956. 800-434-3750.
###