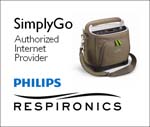 Houston, Texas (PRWEB) March 01, 2012
Sleep Restfully, Inc of Houston, Texas has been named by Philips Respironics as an Authorized Internet Provider for the newly introduced SimplyGo Portable Oxygen Concentrator. The Respironics SimplyGo Portable Oxygen Concentrator is the first portable concentrator to deliver both continuous flow and pulse dose in a package weighing only 10 pounds. Prior to the introduction of the SimplyGo the only portable concentrators in this weight category were pulse dose units like the Respironics EverGo or Inogen One G2 Portable Oxygen Concentrator. Continuous flow portable concentrators have typically weighted 17+ pounds with battery. The SimplyGo operated on AC, DC or Battery power anywhere in the world without a converter.
Philips Respironics is a world leader in the medical device industry. Respironics introduced the first CPAP machine in 1985 and received a patent for bi-level technology in 1992. Respironics has long been a major supplier of stationary oxygen concentrators such as the EverFlo oxygen concentrator.
Respironics initial portable oxygen concentrator, which is still in production today, is the EverGo. This pulse dose oxygen delivery system delivers 8 hours of oxygen at a pulse setting of 2 on fully charged batteries. Like the SimplyGo the EverGo will work on AC, DC or Battery power.
In December 2007 Respironics entered into a merger agreement with Royal Philips Electronics where Philips acquired the stock of Respironics. Today the company is known as Philips Respironcs.
Sleep Restfully, Inc. is proud to be a distributor for the full line of Philip Respironics products.
Sleep Restfully, Inc. prides itself on the high quality customer service it provides to Sleep Therapy and Oxygen customers. Their slogan, "We may not be able to match everyone's price but no one can match our service" is exemplified by their Better Business rating of "A". They carry a complete line of sleep therapy equipment and supplies by ResMed, Philips Respironics, Fisher & Paykel and other manufacturers. In addition to CPAP machines and CPAP supplies, Sleep Restfully is your portable oxygen concentrator specialist offering the best prices and support for portable oxygen concentrators such as the Respironics SimplyGo, Respironics EverGo, Sequal Eclipse 3, Inogen G2, Invacare XPO2 and more. They also sell stationary oxygen concentrators such as the Philips Respironics EverFlo and Invacare Perfecto.
In addition, Sleep Restfully stocks all replacement parts for the CPAP machines and CPAP mask as well as replacement parts for all portable oxygen concentrators.
Sleep Restfully, Inc. can be contacted toll free at (866) 923-2727, or by visiting their website sleeprestfully.com.
###