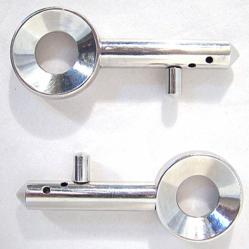 The increase of consigned items has shot up by 700% over the past year
Eastern Shore, DE (PRWEB) March 01, 2012
Veteran eBay members Norb and Marie Novocin, owners of Estate Auctions Inc., began dealing with antiques fifteen years ago. They quickly developed a loyal following on eBay which has resulted in a very successful business. The request to handle top quality consignments has been a welcome addition in a struggling economy. The increase of consigned items has shot up by 700% over the past year. Calls continue to stream into the offices of these long time Power Sellers and have forced them to make appointments for basic consultations. "As the economy got tougher our sales got better. We began to have numerous people call us to sell their antiques and rare collectibles on eBay. We are proud to say we have been getting top dollar, in fact we have seen our sales in 2011 end 60% higher than expected. We recently had to qualify consignments at a higher dollar figure because of the hundreds coming in every month. Thanks to the consignments we are now generating a six figure annual income." says Norb Novocin
Norb and Marie, with the help of their two teenage sons, Judah and Casey, run the operation. Norb still manages to attend a few auctions and works directly with consignors, Judah handles all the photo work, Mom (Marie) makes sure everything gets to where it's going, and Casey diligently keeps the coffee fresh. They handle all of this and still manage to homeschool and take Saturday off to celebrate a day of rest.
After fourteen years and over 36,000 sales they have developed a successful system that runs smoothly and efficiently. Their eBay ID is EstateAuctionsInc and by looking at the 100% feedback rating (over 15,000 now) it is clear that customer service is at the top of the list for the Novocins. "The reason we continue to have a steady stream of new consignors and top quality items is because we treat everyone with honesty and respect. We have antique dealers drop off items that are worth thousands of dollars. We have individuals ship rare one of a kind items across the country, people we've never seen before, but they trust us and we're so honored by this." says Marie Novocin
For those who prefer a more do-it-yourself approach the Novocins have released a book that is sure to help. It shows in an easy step by step process how they run their profitable business, in such a way that others can mirror their success. It is packed with full color photos of actual items they've bought and then sold on eBay. They specialize in antiques, collectibles, and rare items and of course, their specialty, those one of a kind, quirky, unusual, never before seen finds.
In the book people will find a detailed explanation of how to sell your items on eBay in such a way as to maximize profits. Every month they continue to sell hundreds of items even after the release of the book. They are proud of the fact that after authoring their book they remain as active as ever on eBay.
The book is available on eBay, of course, as well as the Getting Sold On eBay website and Amazon. The Novocins have also produced a one hour training DVD titled, "Acquiring Items That Make You A Profit," which for a limited time is a free bonus with any books purchased through their eBay store or on their Getting Sold On eBay website.
For information on consigning with Norb and Marie Novocin please contact them at 1-800-573-3505 or email: ebay(at)estateauctionsinc(dot)com.
###