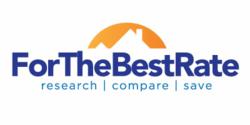 Even a relatively small reduction in rate can often mean a lower monthly payment or make it possible to pay off a loan sooner
Wilmington, NC (PRWEB) March 04, 2012
Fixed rate mortgage rates are once again priced near record lows, following increases the week ending February 24th, 2012, reveals ForTheBestRate.com, a consumer focused mortgage rate research website. Mortgage rates as low as 3.875% (APR: 3.875%, Points: 0, Fees: $0, Lender: Seckel Capital, LLC) were advertised on the site for a 30 year fixed California mortgage loan on Friday, March 2nd, 2012. Fifteen year fixed pricing is also near the historical low point with rates posted on ForTheBestRate.com as low as 3.125% (APR: 3.214%, Points: 0, Fees: $1230, Lender: Crestline Funding.)
The drop in mortgage rates was also noted in the weekly rate survey released Thursday, March 1st, 2012 by Freddie Mac, a government sponsored enterprise that purchases mortgage loans on the secondary market. The survey showed 30 year fixed mortgage rates fell to an average of 3.90% (0.8 points) after averaging 3.95% (0.8 points) the week before. 15 year pricing also dropped, moving from an average of 3.19% (0.8 points) to one of 3.17% (0.8 points.) 5 year adjustable rate mortgage prices moved slightly higher, with the average rates across the country rising to 2.83% (0.7 points) after reaching 2.80% (0.7 points) one week earlier.
"We continue to see homeowners taking advantage of these historically low mortgage rates with refinance loans," said Shaun Hamman, VP of Residential Lending at American Financial Resources, a National mortgage lender. "Even a relatively small reduction in rate can often mean a lower monthly payment or make it possible to pay off a loan sooner. For those who are able to consolidate higher interest rate debt or move to a shorter term loan the benefits can be even greater."
Consumers can research current mortgage rates at any time on ForTheBestRate.com with no registration or sign up required. Home loan pricing is posted by a variety of mortgage bankers, brokers, lenders, and credit unions, and displayed side by side, allowing mortgage shoppers to easily compare advertised rates. Interest rates can change at any time, and may remain steady for several days or change multiple times within one day.
Current mortgage rates for a number of different residential mortgage programs can be viewed on ForTheBestRate.com. Below is a snapshot of mortgage rates for a variety of products listed on the site on 02/17/2012. California mortgage rates used in this example. Rates are subject to change. Please visit the site to view the criteria used in the survey.
30 Year Mortgage Rates (0 Points)
Crestline Funding - 3.875% Note Rate, 3.926% APR, $1230 Fees in APR
Quicken Loans - 4.375% Note Rate, 4.463% APR, $2057 Fees in APR
15 Year Mortgage Rates (0 Points)
AmeriSave - 3.125% Note Rate, 3.270% APR, $1995 Fees in APR
Seckel Capital, LLC - 3.250% Note Rate, 3.250% APR, $0 Fees in APR
30 Year FHA Mortgage Rates (0 Points)
National Mortgage Alliance - 3.625% Note Rate, 3.707% APR, $2000 Fees in APR
Crestline Funding - 3.750% Note Rate, 3.805% APR, $1330 Fees in APR
30 Year VA Mortgage Rates (0 Points)
Seckel Capital - 4.250% Note Rate, 4.250% APR, $0 Fees in APR
About ForTheBestRate.com
ForTheBestRate.com is a website that offers information regarding mortgages, insurance, and personal finance. ForTheBestRate.com is owned by CMG Equities, LLC based in Wilmington, NC.
###