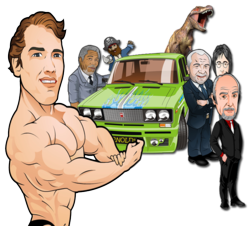 The really good thing is not everyone has them yet.
(PRWEB) March 08, 2012
The GPS voice was designed as a safety feature so drivers don't need to take their eyes off the road when being navigated. Soon companies like Satvoices and individuals saw the opportunity to swap the standard voice. They've been very imaginative and every taste seems to have been catered for, whether it be a TomTom or a Garmin voice.
Basically any celebrity voice or accent can be turned into a usable GPS voice, even a Scooby Doo voice. Interesting! Some other ideas for an entertaining and stimulating voice that are available or not yet available as a GPS voice are Jeremy Clarkson, Morgan Freeman and even Napoleon Dynamite! So far there are many different voices and more are sure to be on the horizon.
Drivers certainly have less excuse for getting lost especially with voices like Young Arnold navigating them, this is the Arnold many younger ones might not be as familiar with, the serious Bodybuilder of the 60's and 70's before he had world fame. Although being told where to go a small amount of brain power is still needed in making decisions, should the unthinkable happen and the driver is directed by Alan Partridge to take a turn over a muddy field in Norwich. Then their sat nav probably needs to be updated.
When searching online there are other voices that should suit different personal tastes and give a Garmin or TomTom a bit of personality. As technology continues to be a big part of our lives it's good to see a bit of light relief added to an everyday modern tool.
The really good thing is not everyone has them yet. Whereas with the mobile ringtone trend everyone seems to have one, such as the popular Knight Rider theme or some other 80's tune. Which is another available voice, KITT (Knight Industries 2000). How cool! The voice on a Garmin or TomTom may have lost that sparkle they first had so maybe it's time to have a look at one of these downloads and have a Star in the car.
About Satvoices: Satvoices are a GPS voice company specializing in celebrity impressions, characters and unique voices. Based in the UK they were founded in 2010 and now have a large selection of clean, non expletive voices. All products are designed to be easily downloaded and installed onto the customers GPS.