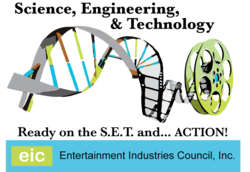 "Like reading is fundamental, engineering is fundamental and a part of everything we do. If people recognize how pervasive the basic concepts of engineering are in their lives, we can revive the passion to problem solve..."
-Brian Dyak, President, EIC
Fairfax, VA (PRWEB) March 02, 2012
In honor of Engineering Week, the Entertainment Industries Council, Inc. (EIC), through its Entertainment and Media Communications Institute (EMCI), in cooperation with the National Science Foundation(NSF) and George Mason University (GMU), held an Engineering Think Tank: A New Communication Blueprint on the GMU campus in Fairfax, Virginia. The goal was to discuss ways to effectively communicate science, engineering, technology and mathematics to broad audiences through entertainment and news media in ways that will inspire and revive American interest in these fields.
The Think Tank brought together entertainment media, news, aerospace, science, engineering, technology, and mathematics experts including journalists Mark Roth (Pittsburgh Post-Gazette) and Adam Hornyak (Front Row Monthly), writers Pat Charles (Bones) and T.D. Mitchell (Army Wives), television host Rossi Morreale (Discovery Channel's Belly of the Beast) and radio personality Pat Fant (NASA's Third Rock Radio, America's Space Station). Engineering leaders from The Boeing Company, Discovery Communications, Lockheed Martin, U.S. Department of Education, Cable in the Classroom, Facebook, Birth2Work, Words & Numbers, MYTHWORKS, and others participated in the two-day Think Tank.
The nearly 40 participants, representing viewpoints from education to workforce, social media to news, and communication to entertainment media, combined their knowledge and experience to create new and exciting ways of igniting youth interest in the fields of science, engineering, and technology, while reducing stigma surrounding these fields and discovering common language to make engineering accessible to all. "It reminds me of how the Crash Test Dummies made buckling up relatable to everyone from age 3-99; we need to make engineering just as relatable. Like reading is fundamental, engineering is fundamental and a part of everything we do. If people recognize how pervasive the basic concepts of engineering are in their lives, we can revive the passion to problem solve as a life-long skill and experience," Brian Dyak, President and CEO of EIC stated.
"It's a question of marketing; high school students need to be made aware that they have been exposed to engineering. Some engineering is already included in some courses, such as physics. For no cost, the title of high school 'Physics' could be changed to 'Physics and Engineering.' This would increase the number of students who self-identify as interested in engineering… Engineering majors in colleges have lower rates of dropping or changing majors than their counterparts in the science and math fields," said Dr. Donna Nelson, advisor to Breaking Bad, and esteemed Oklahoma University chemistry professor.
The outcome of the Think Tank includes a publication detailing entertainment, news, and social media action strategies to enhance communication of engineering feats and opportunities available to students and those already in the workforce. In essence, developing strategies to make engineering relatable and "cool." By also portraying characters as professionals with unified base-skills, audiences will learn that instead of being an isolated field, engineering is an underlying part of every field.
Dr. Gary Kreps, Distinguished Professor and Chair of Communication at George Mason University, suggested we "educate news writers about the exciting problem-solving accomplishments of engineering." This will help build the foundation and framework for continuing the conversation with expanded engagement in Los Angeles and other cities throughout 2012. For more information, log on to http://www.eiconline.org/readyontheset.
About Entertainment Industries Council
EIC, a non-profit organization, was founded in 1983 by leaders of the entertainment industry to bring the power and influence of the industry to bear on communication about health and social issues. The organization is considered to be the chief pioneer of entertainment outreach and one of the premiere success stories in the field of entertainment education. EIC provides information resources for entertainment creators through innovative and time-proven services and methods of "encouraging the art of making a difference" from within the entertainment industry. EIC produces the simulcast national television special PRISM Awards Showcase which addresses accurate portrayals of prevention, treatment and recovery from drug, alcohol and tobacco use, and mental health concerns. The organization also produces the S.E.T Awards, honoring positive and non-stereotypical portrayals of science, engineering and technology.
EIC also addresses issues such as diabetes, ADHD, Post Traumatic Stress Disorder, foster care, women's health, firearm safety and injury prevention, sun safety and skin cancer prevention, human trafficking, terrorism and homeland security, eating disorders and obesity, seat belt use and traffic safety, and HIV/AIDS prevention. The organization has also launched an initiative to increase the public profile and interest in science, engineering and technology. EIC's web site is http://www.eiconline.org. The PRISM Awards web site is http://www.prismawards.com.