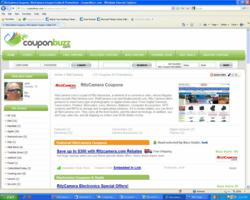 The Ritz Camera coupon code...is the perfect nudge for shoppers who've been procrastinating an upgrade.
Houston, TX (PRWEB) March 03, 2012
Online shoppers searching for low prices on the Olympus XZ-1 Digital Camera can expect to be thrilled with the latest Ritz Camera coupon codes featured at CouponBuzz.com. The most recent addition to their new web page dedicated to Ritz Camera coupons connects site visitors to a 20% off rebate offer that saves them $100 off standard retail pricing for Olympus XZ-1 camera.
Only $399 after the available rebates, the Olympus XZ-1 digital camera is 10 megapixels with a 4x Zuiko zoom lens, HD Movie 720p, comprehensive accessory port and a Truepic V Image processor. In lay terms, that means it can take really good pictures from very far away and make sweet movies, both of which can easily be shared on a variety of devices. And the Olympus XZ-1 will process everything really fast, no more waiting for the camera to 'get ready.'
"One of the blessings and curses of technology is that it evolves so quickly, simply trying staying ahead of the curve can bankrupt you if you're not careful," said Justin Bowen, head of marketing at CouponBuzz.com. "However, there is also something to be said for finally admitting that your old camera really is not going to 'turn up any day now,' or that 3 megapixels really isn't 'just fine.' The Ritz Camera coupon codes for the new Olympus XZ-1 camera featured in the new section today is the perfect nudge for shoppers who've been procrastinating an upgrade."
The link to the $100 off rebate is displayed near the top of the new web page at
http://couponbuzz.com/ritzcamera-coupons.html. The recently launched section focuses on aggregating the best of the available Ritz Camera coupon codes, special offers, sales, and weekly deal alerts. They are then evaluated by a Buzz Guide, and given a Buzz Score, to indicate their general level of 'awesomeness.' The Buzz Guide adds text and explanations about how to use the coupon or special offer (where necessary), an expiration date where one is specified by the retailer, and how shoppers can access the deal.