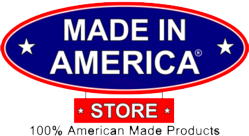 Elma, New York (PRWEB) March 04, 2012
The Made In America Store has made its presence for selling only 100% American made products from toys, snacks and cloth, but now the Made In America Store is making its case with outdoors enthusiasts. The Sport & Travel Expo in Hamburg presents consumers with a wide range of booths from archery experts, firearm vendors to live demos from dog trainers
The Sport & Travel Expo also has guest appearances from Jim Beverly Retriever Trainer, Clint Taylor, Bryon Ferguson Archery Expert and Joe LaFont & Tommy Chauvin from the hit show "Swamp People." The expo showcases presentations and seminars on fishing, hunting and everything in between for all ages. Vendors will have a variety of goods and products dealing with traveling and sports.
The Made In America Store will add to the lineup with its products. The great outdoors lifestyle is a national symbol, and the Made In America Store will be supporting those enthusiasts. The store offers hunting accessories, ammunition, gun cleaning products, fishing lures, sleeping bags and even toilet paper.
The Made In America Store sells only 100% American manufactured products, right down to the packaging. Visit http://www.SaveOurCountryFirst.com for more information and a digital catalog of the products offered.