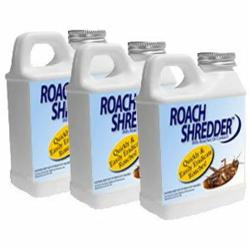 The annoying and dirty german cockroach can be intimidating, but these pests can be effectively removed from your home using a safe roach killer from Planet Amazing: Roach Shredder roach killer.
(PRWEB) March 18, 2012
The annoying and dirty German cockroach can be intimidating, but a new report outlines the method that these pests can be effectively removed from your home using a safe roach killer from Planet Amazing. The environmentally friendly Roach Shredder has been proven to eliminate German cockroaches quickly and safely, the report says. Killing roaches is as easy as spreading a powder in the corners of a room on the carpet, where it cannot be seen, and the powder itself is safe for pets, plants and people.
"Farmers and ranchers have been using these ingredients for years to keep their food storage areas free of roaches," says Justin Douglas of Planet Amazing. "And, because of its non-toxic formula, Shredder is even used in restaurants and commercial food handling areas."
"Roaches are a common problem around the world," says Mr. Douglas. "Roaches aren't just disgusting, they are dangerous to your health! Roach droppings and their body parts can trigger asthma attacks. Roaches are the #1 cause of asthma in urban children. Roaches can cause severe allergies. Roaches can produce allergic reactions such as sneezing, asthma, watery eyes and skin irritation. Roaches carry and spread bacteria throughout your home. Roaches often spread Salmonella, the bacteria that causes food poisoning."
Mr. Douglas says "Planet Amazing's environmentally friendly Roach Shredder product is a powder that is safe for people and pets but fatal for roaches. It has microscopic jagged edges. When roaches eat Shredder, the specially formulated razor-sharp edges act like tiny knives slashing, slicing and shredding their insides. Although Shredder is lethal to roaches, it is completely safe for humans and pets because the sharp edges are too tiny to harm anything other than roaches. It won't leave a messy residue for you to clean up, it won't stain your carpets or clothes, it won't poison you, your family, or your pets, it won't leave you with a lingering chemical odor, and it won't create fumes, cause headaches, or worsen breathing problems."
For more information or to purchase Roach Shredder, visit the official website.
About Planet Amazing
Planet Amazing creates family-friendly and environmentally safe products. Planet Amazing sets high standards for their operating companies in the area of environmental responsibility — striving for performance that does not merely comply with regulations but reduces the environmental impact. They commit to take care of our planet and preserve its beauty, resources and strength for future generations. Planet Amazing embraces research and science - bringing innovative ideas, products and services to advance the lives and well-being of people. Employees of the Planet Amazing Family of Companies work with its partners in order to touch the lives of people every day, throughout the world.