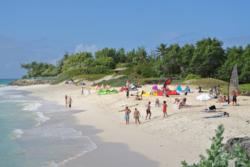 Party-Destinations Marketing is an exclusive marketing channel. Advertising and promotions are available only to selected hotels
Bridgetown, Barbados (PRWEB) March 07, 2012
Party-Destinations.com, which offers tip and reviews, special deals and promotions to party travelers, announces a new video detailing opportunities for hotel marketing and tourism companies who want to promote their brands to the fast-growing market for party vacation seekers.
This segment, which is one of the hottest travel markets, is very competitive and allows few opportunities for independent hotels to gain direct market access. With party-destinations.com, resorts can quickly gain prime exposure on relevant search terms.
Party-Destinations Marketing can create highly social indexed and SEO-optimized theme websites for selected hotels and travel suppliers. These customized sites contain unique SEO content to help tourism suppliers get listed on the search engines. An example is http://partyplaces.yellowbirdbarbados.com. This customized site is owned by the hotel and managed and marketed by the Party-Destinations Marketing (PDM) team.
"We build custom landing pages for hotels that are highly optimized for the hotel or travel partner for their specific campaign. With our content marketing and travel video promos along with our proprietary http://SocialIndexEngine.com technology our hotel and tourism partners can enjoy the benefits of top brand marketing at an affordable price," says Kathy-Lynn Ward, COO of AXSES, who manages PDM initiatives.
With over 300 million pages vying for top billing on party holiday-related search terms, it is extremely difficult for individual hotels and even small hotel chains to gain exposure in these search results. Targeting the travelers who seek active holidays, fine dining and clubbing as well as fun adventures and activities by day AND marketing all of these things is a daunting task when competing with the big names and established brands in travel marketing.
PDM changes the landscape by giving all tourism and destination marketing companies and organizations first place listings on search results. This travel marketing leads travelers directly to the suppliers' website, building a sustainable brand and loyal customers and increasing high profit direct bookings.
PDM is an exclusive marketing channel; advertising and promotions are available only to selected hotels. Kathy-Lynn Ward says, "We do not want to saturate the market and will insure that each hotel and tourism supplier gets premium exposure in their own market. This also makes it easier for search-weary travelers who are often overwhelmed with choices."
PDM selects hotels and tourism suppliers based on merit and will evaluate travelers' reviews and other ratings. Suppliers must be close to nightlife and offer special packages and coupons that are only available to Party-Destinations.com. Travelers are encouraged to join the PDM Club to get news and special offers.
ABOUT
http://Party-Destinations.com is an AXSES Initiative built using the SocialIndexEngine optimization and marketing systems also pioneered by AXSES.
AXSES, a leader in travel marketing technology, was one of the first companies to develop a direct bookings application for Facebook, and has consistently been an innovator is all aspects of travel marketing. In 2011, AXSES was featured by the New York Times in an article on Social Media use in Travel.
The AXSES tourism marketing team works with professionals in the hotel, tourism and travel industries, to help build their businesses through all forms of social media and conventional marketing.
Travelers seeking a fun holiday in the world's top party destinations are invited to subscribe to the FREE newsletter to get the latest news on party holidays and access to specials and deals only available at Party-Destination.com