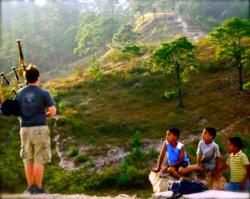 "Very little is known about the Great Highland Bagpipe. The lecture will combine music and photographs to tell the story of the bagpipe from the time of humble clan origins to worldwide distinction."
Chicopee, Massachusetts (PRWEB) March 05, 2012
Elms College senior David Peters will present a lecture titled, "The Great Highland Bagpipe in a Global Perspective" at 12:15 p.m. on Thursday, March 8 at the Michele and Donald D'Amour Museum of Fine Arts in Springfield, Massachusetts.
Peters will discuss how the bagpipes have disseminated throughout the world from the time of the highland clearings, and where the bagpipe is headed in the future. He will perform ancient, traditional, and present-day music composed for the bagpipe.
"I am doing this lecture during a season associated with bagpipes to present a larger perspective on the instrument," Peters says. "Very little is known about the Great Highland Bagpipe, which seems to be restricted to parades, weddings, and funerals. The lecture will combine music and photographs to tell the story of the bagpipe from the time of humble clan origins to worldwide distinction."
Through Elms College, Peters completed a year-long study abroad program in China. He has traveled extensively, and brings his bagpipes wherever he goes.
The lecture will be held in Davis Auditorium. The audience is invited to bring a lunch to enjoy during the program; cookies and beverage are provided. The cost is $2 for members of the Springfield Museums and $4 for non-members. For more information, go to http://www.springfieldmuseums.org/calendar/view/1883-museums_a_la_carte_lecture/03-08-2012 or visit Peters's blog at bagpipesinhand.squarespace.com.
Elms College is a co-educational, Catholic college offering a liberal arts curriculum that gives students multiple perspectives on life. Founded in 1928 by the Sisters of St. Joseph, Elms College has a tradition of educating reflective, principled, and creative learners, who are rooted in faith, educated in mind, compassionate in heart, responsive to civic and social obligations, and capable of adjusting to change without compromising principle.