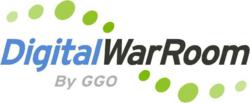 Digital WarRoom is an integrated e-discovery system that removes the risks inherent in the use of separate tools for ESI processing and review.
Seattle, Washington (PRWEB) March 06, 2012
Gallivan, Gallivan and O'Melia (GGO, LLC), the e-discovery experts driving the move toward accessible, affordable e-discovery solutions, will provide live e-discovery consultation and demonstrations of Digital WarRoom software at the 2012 ABA TechShow, to be held at the Chicago Hilton Hotel March 28-30, 2012. Visitors are invited to meet the GGO team at booth 814. Attendees may download a free pass to the ABA TechShow Expo from the Digital WarRoom website at http://bit.ly/A8QYIq.
Digital WarRoom is the first e-discovery platform to provide law firms, corporate legal and e-discovery teams with complete ESI processing, document review and production in a single application, eliminating traditional high-cost volume-based processing fees. "We are seeing a rapid uptake by law firms seeking to modernize and increase the efficiency of e-discovery," said Barry O'Melia, director of products. "Digital WarRoom is a single integrated system that removes the risks inherent in the traditional approach involving separate steps for processing, review, and production of documents. The transition from legacy platforms is seamless, as Digital WarRoom can ingest case data from Concordance, Summation, iPRO, or virtually any e-discovery system."
About Digital WarRoom e-Discovery Platform
Gallivan Gallivan & O'Melia created the Digital WarRoom technology for in-house use by solo attorneys, corporations and law firms to address document processing, review and production in matters of all sizes. The software can be licensed in a variety of forms, addressing any size law firm or matter:

Digital WarRoom Pro, the first PC based product for e-discovery, allowing an individually licensed user to conduct complete e-discovery on a Windows computer;
Digital WarRoom WorkGroup, a client-server application that allows corporate IT, in-house legal, or law firm e-discovery practitioners to manage e-discovery case data processing, document review and production without high priced volume-based processing;
Digital WarRoom Remote hosted e-discovery, a full-service hosted platform designed for distributed and virtual team access to case data.
The Digital WarRoom platform is unique in its ability to create and save case data in a portable form. A case database created on any Digital WarRoom product can move seamlessly to any other Digital WarRoom product, with all attorney work product preserved. This unmatched flexibility allows organizations to cost effectively handle an entire portfolio of matters in-house, while retaining the option for full-service hosted review on larger, complex and global matters.
About GGO
Since its inception in 2002, GGO (Gallivan Gallivan & O'Melia LLC) has successfully completed over 3500 complex e-discovery matters. In 2011, GGO introduced the Digital WarRoom® line of software products, spanning the entire e-discovery lifecycle from capture through processing, review, and production. Customized services include M&A target data preservation and internal data mining and investigations. Headquartered in Seattle, GGO offices are located in New York, Santa Clara, San Francisco, Dallas, Los Angeles, and London, serving all metropolitan markets in Europe, Asia and North America. Leading global corporations, Fortune 1000 companies, Am Law 100 law firms, and government agencies, including the Library of Congress, rely on GGO for robust technology and personalized service. To learn more about GGO, visit http://www.digitalwarroom.com.