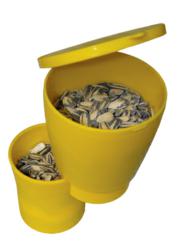 Customers... use it for candy, french fries after going through the drive-thru, candy wrappers, and peanuts.
Fargo, ND (PRWEB) March 07, 2012
Gadgets Galore, Inc. is pleased to introduce its reusable sunflower seed and snacks cup, The Spitster. The Spitster is made up of two cups in one and when assembled the larger cup can hold 6 oz. of uneaten sunflower seeds while the smaller cup is the perfect size for empty sunflower seed shells. The guide pin component connects the two cups together when in use, so they are side by side, but can fit into a single cup holder. When not in use, the lower cup fits nicely into the upper cup for easy storage.
The Spitsters' creator, Mary Bjerke, explains that her product can be used for more than just sunflower seeds. "Because of feedback from customers… I have been told they use it for candy, french fries after going through the drive-thru, candy wrappers, and peanuts," Bjerke said. However, the idea of The Spitster started in 1999 when Bjerke needed to use two cups to eat sunflower seeds: one cup to hold the seeds and the other to discard the shells while driving. She wanted to find a way to make eating sunflower seeds on-the-go easy and mess free. "I would end up spilling seeds all over the seat of my car or forgetting to bring a cup for the discarded shells," Bjerke said. She developed a working prototype with Reuben Tschritter from the Institute for Business and Industry Development at North Dakota State University, and the product has recently been patented.
The Spitster cup is convenient and easy to use. It fits most automobile, truck, boat, tractor and lawn chair cup holders. Its no-mess design makes it the perfect solution while traveling, at sporting events, picnics, or virtually anywhere you go. The Spitster is currently manufactured in Minot, N.D. but is available online, at various fairs and product shows, and in select grocery and convenience stores.
###