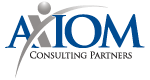 "Our strategic planning process incorporated unprecedented levels of member feedback," said ACC's Richardson. "Having input from our members allowed us to develop a strategic plan that addresses their specific needs."
Chicago, IL (PRWEB) March 07, 2012
Axiom Consulting Partners (Axiom) recently completed the strategic planning process with the Association of Corporate Counsel (ACC) and has announced that ACC is poised to deliver even more value to its global membership due to a Strategic Plan that is focused on value creation, stakeholder engagement and implementation.
As the world's largest network of in-house counsel, representing more than 29,000 members employed by over 10,000 organizations, ACC wanted to ensure that they could continue to meet the specific needs of their membership. After a six-month process, ACC rolled out their new five-year Strategic Plan on February 14, 2012.
Axiom said ACC's priorities – missing from many strategic planning efforts – were critical to closing the gap between intentions and results.
"Veta Richardson and ACC's Board of Directors didn't want to just 'go through' the motions of strategic planning. They made it clear that engaging the membership and building strategic alignment among a global constituency were must-haves," said Juan Pablo Gonzalez, an Axiom partner who led the ACC engagement. "In our experience, when there is alignment around strategy, organization and talent, great things happen."
Understand Value from the "Inside-Out"
Rather than applying a traditional "outside-in" approach to strategic planning focused on external scans and competitor analyses, ACC chose Axiom's "inside-out" approach to analyze and build upon a detailed understanding of how the association creates value for its members.
During the strategic planning process, the critical capabilities that support ACC's ability to attain its mission were identified and mapped into a "value tree" – a visual representation of how an organization creates value and then maps the capabilities, processes, activities and initiatives required to be successful.
"In most organizations, there are a few key capabilities and processes that create value and deserve management's greatest attention. But getting agreement on what those are can be very difficult," said Axiom's President, Garrett Sheridan. "Building alignment around what's important makes it easier for the entire organization to pull together and deliver results."
Engage Key Stakeholders in the Planning Process
To create clarity and alignment around strategic priorities, members and other key stakeholders participated actively in ACC's strategic planning effort. More than 4,100 members shared their input through an online survey which was augmented with focus groups and interviews with members representing varied constituencies around the world. This valuable input from members helped to ensure that a broad range of perspectives were considered and set the stage for buy-in from the broader membership.
"Our strategic planning process incorporated unprecedented levels of member feedback," said ACC's Richardson. "Having input from our members allowed us to develop a strategic plan that addresses their specific needs."
Keep Sight of Implementation
The cornerstones of ACC's new strategic plan are three clear powerful themes that describe what ACC must do in the next five years to attain its mission and vision. These strategic themes are supported by specific approaches and activities that ACC will be implementing over the next five years.
"ACC's strategic planning process is a model for any organization that needs a higher level of focus and discipline around the things that really matter," said Axiom's Gonzalez. "Building on how the organization creates value for members, the ACC developed a solid foundation for implementation through the specific objectives it selected to support its strategic plan."
About Axiom Consulting Partners
Axiom Consulting Partners works side-by-side with leaders to deliver pragmatic solutions that drive results. Our services help clients clarify strategy, focus on the highest priority sources of value and align their capabilities, processes and people to deliver sustainable, profitable growth. We always look at a client's challenges through the lenses of business strategy, organization design and talent management – it's why they choose us over firms that operate in just one of these disciplines.
Learn more at http://www.axiomcp.com.
About the Association of Corporate Counsel
About ACC: The Association of Corporate Counsel (ACC) is a global bar association that promotes the common professional and business interests of in-house counsel who work for corporations, associations and other private-sector organizations through information, education, networking opportunities and advocacy initiatives. With more than 29,000 members in more than 75 countries, employed by over 10,000 organizations, ACC connects its members to the people and resources necessary for both personal and professional growth. By in-house counsel, for in-house counsel.® For more information, visit http://www.acc.com and follow ACC on Twitter http://twitter.com/ACCinhouse.