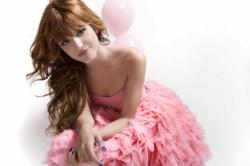 Bella says, "My website is not only the place to go get the scoop on my life, but it's also a place where you can hang out and share what's going on in YOUR life. You can create your own profile page, swap ideas and make new friends."
Los Angeles, CA (PRWEB) March 06, 2012
"…breakout starlet to replace aging Miley Cyrus" -- Deadline TV
"This song may be called Bubblegum Boy, but it has some serious swagger!!! And it may be by a Disney starlet and her BFF, but we are seriously feeling it!!!! Check out Bella Thorne and Pia Mia's super infectious tune (above)!!! Bubblegum deliciousness!!!"—Perez Hilton
3/6/12 (Los Angeles, CA) --- Bella Thorne, Disney Star, Dancer and Recording Artist, launches BellaThorneOfficial.com, an interactive media network hub of Bella news, announcements and insider information, announced EQAL, the next-generation media company that combines technology and people to power 24/7/365 digital media properties around consumer brands and celebrities. BellaThorneOfficial.com kicks off with a giveaway of the 2b.RYCH dress Bella wore on the Red Carpet at The Vow premiere, with other special personal giveaways planned as the site rolls out.
BellaThorneOfficial.com features Bella's personal blog and a section to interact with Bella and her online community by sharing thoughts, photos, videos and more. Special sections include fashion, beauty, music and dance, "help" out", my life, buzzed about, fun stuff and a personal video gallery. BellaThorneOfficial.com is the destination for all you've ever wanted to know from the triple threat about her acting, dance and singing activities to announcements of everything new.
BellaThorneOfficial.com will incorporate Bella's Twitter, Facebook, Google +, Instagram, YouTube and other social media applications to make it the ultimate center of activity for Bella. Comments from fans add to the multi-dimensionality of the site – to win Bella's dress, fans comment on what they want to see on BellaThorneOfficial.com and a winner will be picked and gifted the same dress in her size, with the tag signed by Bella.
Bella says, "My website is not only the place to go get the scoop on my life, but it's also a place where you can hang out and share what's going on in YOUR life. You can create your own profile page, swap ideas and make new friends."
Miles Beckett, Co-Founder and CEO of EQAL says, "We are excited about welcoming Bella Thorne into the EQAL family and creating an online magazine for her fans to hang out, share content, and make new friends." Continued Greg Goodfried, Co-Founder and President of EQAL, " We are happy to offer Bella and her dedicated fans an online destination where they can congregate and share about everything important to them in a customized, personal setting."
About Bella Thorne:
Bella Thorne, star of the hit Disney Channel original series Shake It Up has sky rocketed to fame with her tween/teen fans playing aspiring dancer 'Cece Jones'. In January 2012 Thorne starred in the Disney Channel movie of the week Frenemies. The triple threat now expands her talent in the music arena with her first solo single TTYLXOX, which is included on the upcoming Shake It Up soundtrack. Her first single with best friend Pia Mia is currently climbing the charts on Radio Disney with their single Bubblegum Boy. Danimals is continuing their Sprouse Twins's campaign and currently added Thorne to their successful commercial campaign. Thorne is currently the Global Ambassador for StompOutBullying, a cause that is near and dear to her heart.
About EQAL:
EQAL is a next-generation media company that combines technology and people to power 24/7/365 digital media properties around consumer brands and celebrities. An EQAL media property is a multiplatform digital magazine that creates a seamless experience for fans across various devices and social networks. With over 25 media properties, including Nick Cannon, Bethenny Frankel, The Kind Life with Alicia Silverstone, Stan Lee, Tori Spelling, Lauren Conrad, Sugar Ray Leonard, Michelle Phan, KRAFT's Real Women of Philadelphia, Walk With Walgreens, and YouTube phenoms Elle & Blair Fowler, our network reaches nearly 30 million trend-setting consumers and generates over 3 billion content impressions every month. EQAL was founded by online programming pioneers Miles Beckett and Greg Goodfried who created many of the "firsts" in the development of the online video industry with lonelygirl15, KateModern and Harpers Globe. In April, EQAL will premiere "u look haute", one of the YouTube original programming channels.
Contact for Bella Thorne:
Laura Ackermann lackermann(at)muchandhousepr(dot)com 323.965.0852 x 7150
Contact for BellaThorneOfficial.com:
Jill Siegel jill(at)EQAL(dot)com 917.214.1710