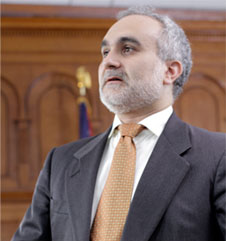 We told the jury, 'Send a message. Make your verdict loud enough to be heard all the way to Sioux Falls.'
MEDFORD, OREGON (PRWEB) March 06, 2012
Handing down a decision that carries serious implications to organizations that hire trucking companies, a jury here late last week returned a verdict of nearly $5.2 million to the family of a man killed by a tractor trailer in 2008. Linhart v. Heyl Logistics LLC, et al., Case No. 10-03100 (D. Or. Judge Panner). Attorneys for plaintiff Kelly Linhart argued successfully that trucking broker Heyl Logistics failed to perform due diligence when it hired Washington Transportation to haul goods for bottled water giant Nestle Waters North America.
It was shown in federal court that on Sept. 25, 2008, Washington Transportation truck driver Daniel Clarey was apparently coming off a crystal methamphetamine high and falling asleep at the wheel when he plowed into Linhart on Interstate 5 south of Ashland, Oregon (Stipulated Facts, Docket No. 233). Linhart, who also worked as a truck driver, was standing roadside inspecting his vehicle's brakes when the collision occurred. After hearing testimony, the jury determined that Clarey and Heyl Logistics were both at fault, and returned Linhart's four adult children $5.2 million, which appears to be the first punitive damages verdict against a transportation broker in a case involving a negligent hiring claim.
"It's about safety - safety on our roads," said Leizerman, a nationally known trial lawyer and author of the treatise Litigating Truck Accident Cases. "We told the jury, 'Send a message. Make your verdict loud enough to be heard all the way to Sioux Falls.'"
Sioux Falls, S.D. is home to Heyl Logistics. Heyl hired Forrest Rangeloff, who claimed to be operating for Washington Transportation, a company owned by his twin brother Eric Rangeloff. It was shown in court that Washington Transportation was without insurance and without operating authority, two violations common in the Rangeloffs' checkered past as business owners. The Rangeloffs have each had their authority revoked for, among other violations, failure to conduct drug testing on their drivers (List of Admitted Exhibits, Docket No. 234).
That fact, Leizerman and Samole argued, should have been discovered by Heyl Logistics when the broker agreed to hire Washington Transportation to ship bottled water products for Nestle. The plaintiff's primary challenge at trial was proving Heyl Logistics' negligence despite the broker's failure to document any of its ostensible due diligence. Washington Transportation no longer exists.
Clarey has since served a reduced prison term in exchange for a plea of negligent homicide and driving under the influence. State of Oregon v Daniel Clarence Clarey, Case No. 084095FE (Circuit Court, Jackson County Sept. 26, 2008 (Amended Judgment of Conviction and Sentence)).
"This wasn't just about money, it was about sending a message," Samole said. "There is little government oversight of transportation brokers. Brokers are essentially middlemen that hire truck companies for shippers. But there is no regulatory watchdog to oversee brokers' hiring practices. Right now, it's up to the courts to keep our roads safer by providing some deterrent to careless brokers."
Leizerman runs the website TruckAccidents.com. Local attorney Wallace Ogdahl assisted at trial.
E.J. Leizerman & Associates is one of the leading transportation law firms in the United States, handling a wide variety of catastrophic personal injury cases for clients nationwide. Headquartered in Toledo, Ohio, their personal injury lawyers strive to provide personalized representation that results in exceptional outcomes.
###