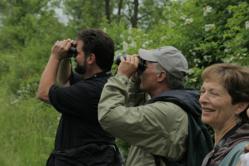 The three week schedule from May 25 – June 17, 2012 includes more than 50 different workshops in gardening, creative, cultural, and culinary arts, outdoor recreation, and history and heritage.
Chautauqua, NY (PRWEB) March 07, 2012
The Chautauqua County Visitors Bureau in southwestern New York State announces the second annual Chautauqua in June a learning festival held in the tradition of lifelong learning popularized by Chautauqua Institution more than 138 years ago. Visitors as well as residents can register for classes and learn landscaping techniques, take lessons in creating artwork and crafts, join guided walking tours, discover new hobbies like birding or biking, and expand their knowledge of local foods, wine, and beer. The three week schedule from May 25 – June 17, 2012 includes more than 50 different workshops in gardening, creative, cultural, and culinary arts, outdoor recreation, and history and heritage. Classes are held in both indoor and outdoor classrooms across Chautauqua County.
Many of the favorite activities from the first Chautauqua in June will return this year. Julie and Steve Rockcastle, organic farmers from Green Heron Growers, will again offer Fun with Fungus, a Shiitake mushroom growing workshop. Several wineries and local chefs will host winemaker's dinners or wine making experiences such as a Boot Camp with Liberty Winery, Double A Vineyards, and Walkers Farm where participants will learn to choose and plant grape vines, make their own wine, and select wines for dinner. Johnson Estate Winery will head outside with Nass Daylily Farm, cultivators of over 350 varieties of daylilies, to teach propagating skills, while Sara Baker Michalak, a natural gardener and artist, will introduce students to cottage gardening at Lana's The Little House, a Cotswold style cottage. Local artists Thomas Annear, Audrey Dowling, and James Hoggard will teach painting and photography techniques out in the field.
Experiences new to the June festival include kayaking and paddling, standing up or sitting down, along with cycling and geologic tours of the region. Tea tastings are prominent on the menu of offerings this year, along with farm-to-table, locavore, and Amish cultural events. There will be opportunities for sewing, knitting, and spinning yarn, and even a workshop in film animation. Architectural and cemetery tours, a boating museum, and a 132-year-old hotel provide several opportunities to learn more about the heritage of the region.
In addition to classes, several notable events take place during the festival. Visitors can tour the homes and studios of artists during the Chautauqua-Lake Erie Art Trail's Open Studio Tour. The NJCAA National Golf Championship tournament takes place at the Chautauqua Golf Club. The annual Bach & Beyond Baroque Festival will be held at the 1891 Fredonia Opera House with an opportunity to have a conversation with the performers. The Roger Tory Peterson Institute hosts its annual Birding Festival, and on the grounds of Chautauqua Institution, the LakeArts Foundation will present The International Festival of Arts and Innovation and "Politics Goes to the Movies", classic films by Oscar-winning actors and directors.
The word Chautauqua evokes a place where people go to learn while having fun, a place to vacation with the opportunity for personal growth. For well over a century, visitors and residents of Chautauqua County have been gathering at lakeside assemblies and summer camps, attending lectures and cultural performances, and relaxing on one of several lakes. This historic retreat atmosphere is preserved in the Chautauqua region today, with the addition of progressively new learning adventures. The Chautauqua in June festival highlights these new learning opportunities, many of which can be found throughout the year. It offers an opportunity to experience attractions like the historic Athenaeum Hotel at Chautauqua Institution or wineries in America's Grape Country in a non-traditional way.
Chautauqua in June is a learning festival promoted by the Chautauqua County Visitors Bureau and held in collaboration with Chautauqua Institution, Jamestown Community College's Center for Continuing Education, SUNY Fredonia's Center for Lifelong Learning, the Chautauqua County Chamber of Commerce and numerous area businesses. Chautauqua County is located in the southwestern corner of New York State with New York's largest grape growing region, five lakes, Victorian and Amish communities, and Lucille Ball's hometown of Jamestown. For more information and a schedule of vacation learning events during Chautauqua in June as well as throughout the year, call 1-866-908-4569 or visit the Chautauqua County Visitors Bureau website at http://www.tourchautauqua.com. Look for upcoming details on a new fall learning festival, Colors of Chautauqua, October 5-21, 2012.