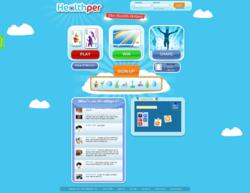 The objective of Healthper is to engage, motivate and reward players for healthy behavior and consistent participation. Our members have expressed excitement over the new application and its user-friendliness."
Princeton, NJ (PRWEB) March 08, 2012
Healthper, Inc., a Princeton, NJ based healthy social gaming and wellness achievement platform recently released their mobile application into the Google Android Market (Google Play) with boundless advantages and vast functionality. Healthper's mobile application differs from your average run-of-the-mill health program, by incorporating a broader set of health factors, social networking, healthy gaming and tiered rewards through simple card play. The Healthper mobile application is an add-on to the already successful Healthper.com website that designs wellness programs for B2B clients and consumers alike. "The objective of Healthper is to engage, motivate and reward players for healthy behavior and consistent participation. Our members have expressed excitement over the new application and its user-friendliness," said Narinder Makin, Co-Founder and Chief Technology Officer at Healthper.
Healthper is driving the user experience by building an ecosystem that promotes change through positivity, community exchanges and visible progress. Healthper has developed various dimensions across their system that is driven by frequency and level of play. Those members that are actively involved in their well-being are rewarded for their dedication by unlocking higher point values and bigger rewards, while members that are less engaged in the process are gently reminded through personalized communication to continue their journey for greater physical fitness. Makin notes, "Verification is an essential part of our process. For example, reaching the challenge card and uploading a picture of yourself enjoying a fruit salad is not only fun, but it substantiates the reason you are making positive changes. Additionally, allowing your physician to authenticate your weight, blood pressure or cholesterol, gives you a meaningful health record that can be your guide for the future."
The Healthper application not only offers members the opportunity to change their behavior, but to understand why these changes are crucial to health management and how it shapes their individual health story. In the coming weeks, Healthper will release their total wellness application into Microsoft Mobile and iTunes App Store.
About Healthper
Healthper is an innovative health engagement platform with solutions for the persisting challenge of convincing consumers to take charge of their health and well-being. Healthper focuses on combining health-based games and social networking to create a fun and engaging experience, directing people toward positive behavior change. Founded in 2010, by the former team of CareGain that helped create Health Savings Accounts (HSAs), Healthper is not only a game, it is an extensive and flexible health engagement platform designed to create real value for individuals and their health plans. Healthper is a privately held company based in Princeton, NJ. For more information, please visit: http://www.healthper.com.