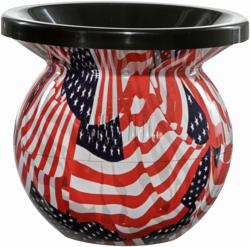 Cowboys, rodeo and chewing tobacco all go hand in hand with our product
Rancho Cucamonga, CA (PRWEB) March 09, 2012
Each March, Rodeo Austin hosts the world's 5th largest indoor, regular season ProRodeo.
The winning contestant in each of the four Super Shooutout events from the top 11 North American rodeos will be invited to Rodeo Austin.
Mud Jug Portable Spittoons president, Darcy Compton wanted to do something special to celebrate this event. What better way than to add the new "American Flag" design to the lineup of portable spittoons. "We are big fans of the PRCA. Nothing is more American than a PRCA cowboy and an American Flag Mud Jug " says Compton.
Walk around any ProRodeo event and it is obvious smokeless tobacco and cowboys are definitely not scarce. "Cowboys, rodeo and chewing tobacco all go hand in hand with our product", says Compton, who grew up riding bareback horses and bull riding. The 2012 Star of Texas Fair and Rodeo will take place March 9th- 24th at the Travis County Expo Center.
Mud Jug offers a unique product that will appeal to fans and riders of the Professional Rodeo Cowboys Association Mud Jug Portable Spittoons make great, affordable gifts for smokeless tobacco consumers and are available in many assorted patterns and designs including the new "American Flag" Mud Jug. Say goodbye to nasty spit cups and spit bottles. Now dippers don't have to worry about spilling or drinking from the wrong cup.
This PRCA event also marks the introduction of many other new limited edition Mud Jugs. This not only includes the American Flag Mud Jug but also the White Zombie Mud Jug. Made of high impact injection molded plastic, the Mud Jug boasts a weighted base and easily removable, snap-fit funnel lid. Its ergonomic design fits securely in a hand and its innovative shape conceals odors and virtually eliminates spills.
Mud Jug Portable Spittoons are available exclusively through Mud Jug's website. Enter coupon code MJ12 for 10% off any order. Although only available online at this time, plans are currently in the works to expand Mud Jugs into larger retail outlets. "One day major retail chains will realize that the smokeless tobacco business is a billion dollar industry. Then consumers will find Mud Jugs in major retail outlets" Compton says.
Make 8 seconds in 2012 and grab a Mud Jug Portable Spittoon.
About Mud Jug:
Mud Jug Portable Spittoons was founded in 2004 by innovator/owner, Jeff Welch. The goal was to provide smokeless tobacco consumers with a unique spitting solution. Hence, the spill-resistant, Mud Jug Portable Spittoon was born. Mud Jugs are proudly made in America.
For more information visit Mudjug.com