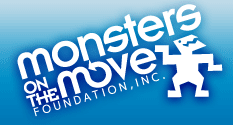 "Extremely excited for the launch of this organization! I was that kid with a huge passion and love for dance and wanted to take classes, but just could not afford it. MOTM will give those dancers...the opportunity." JaQuel Knight, Choreographer
Baltimore, MD (PRWEB) March 08, 2012
Monsters On The Move Foundation, Inc. (MOVE), a 501-C3 non-profit organization, has announced plans for a fundraising telethon to be held in conjunction with The Jabbawockeez Experience March 11, 2012 in Las Vegas.
MOVE organizers will host a fundraising social telethon live from their event in Las Vegas during The Jabbawockeez Experience, Sunday, March 11, 2012 from 9:00am-3:00pm PST. Donations will be accepted online at http://www.monstersonthemove.org or via phone at 888-566-6787. Video & live feeds will be posted on the foundation Facebook page & Twitter feeds throughout the day.
The top three donors from the event will receive exciting prizes such as a signed Mask from the world-famous Jabbawockeez Crew, an exclusive Monsters LA Show Package, gift package from 2-time World Champion ReQuest Crew, original artwork from Crazy Freddy and more.
The Jabbawockeez Experience will take place March 10-11, 2012 at the Alexis Park Resort in Las Vegas. The event will feature two days of dance classes with The Jabbawockeez and Emmy-Award winning choreographers Tabitha & Napoleon Dumo. The weekend event also features a freestyle session, photos & autographs and most importantly, a ticket to the Jabbawockeez' popular show MUS.I.C.
Registration is available online at http://www.monstersonthemove.org. Space is limited on a first-come, first-served basis.
Monsters On The Move Foundation, Inc. was created to provide aspiring, underprivileged dancers the financial support necessary to pursue a quality dance education and fulfill their artistic goals. Scholarship funds will be used to assist in paying for dance education at accredited schools, organizations or institutions. The creators of MOVE mandate that scholarship recipients "Pay It Forward" by giving back to their school, church or community.
The appropriate "giving back" should mirror the good intentions bestowed by the organization. In 2011, MOVE awarded over $20,000 in financial aid scholarships to 14 needy individuals throughout the United States to continue or pursue a dance education.
For information on tax–deductible sponsorships, please contact Andy Funk at the information provided.
###