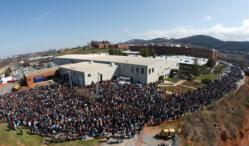 Lynchburg, Va (PRWEB) March 07, 2012
More than 5,000 people experienced a historic moment on Wednesday as Liberty University held a ceremonial groundbreaking for its largest building project to date – the new Jerry Falwell Library.
The ceremony centered on honoring its founder, Dr. Jerry Falwell, for the vision he had 40 years ago to build the world's largest Christian university. The four-story, 170,000-square-foot library will be the first building at Liberty to be named in his honor and will include a museum that will memorialize his life and ministry.
"We believe this is the foundation to carry out the original vision of Jerry Falwell, Sr. – this library is the foundation to reach the world, to capture the world for Jesus Christ," said Dr. Elmer Towns, Dean of the School of Religion and Liberty Baptist Theological Seminary, before leading the crowd in a prayer of dedication.
The line of Liberty students stretched from the side of Arthur S. DeMoss Learning Center to behind the Schilling Center as they joined faculty, staff, administration, Board of Trustees members, longtime supporters, local officials and contractors and architects at the future site.
Dr. Ron Godwin, Liberty's Senior Vice President for Academic Affairs and Provost, said Liberty's Board of Trustees voted unanimously to name the building after Falwell, Sr. "after learning that this magnificent, freestanding facility will become the finest building … on this entire campus."
"(They) instantly understood that the building, for this institution, will represent the epitome of academic and technological excellence, that the building that will serve as a new architectural role model for this entire region, artfully balancing futuristic functionality and Jeffersonian grace and tradition, should of course bear the name of the visionary founder who so persistently taught generations of Liberty students and all of those who served him at Liberty: 'If It's Christian, it ought to be better.'"
Chancellor Jerry Falwell, Jr. said the idea was born about a year ago to have a freestanding library that would be the academic hub of campus.
"Academic excellence was the cornerstone in my father's dream for Liberty University to train and educate Champions for Christ to go into every profession to impact the world," he said. "Today, we are building a library that will truly be world-class. From the automatic book retrieval system to the dramatic expansion of new books and electronic books, this building, as Carl Merat (library dean) says, is about resources, service and student spaces."
He called the building "the heart of our campus" and the "bridge between Liberty's original vision for academic excellence and the final fulfillment of that vision."
In addition to a memorial for his father, he announced the library will have other special mementoes, including a newly acquired Dead Sea Scroll facsimile parchment valued at $125,000 that is currently on display at the Vatican in Rome.
Falwell, Jr. joined his family, including his mother, Macel Falwell, Board of Trustees members and senior members of Liberty's administration on the shovel line to dedicate the new building. Afterward, he was met by cheers of "L-U, L-U" from students as he took the controls of a backhoe and kicked off the first stage of demolition at the Schilling Center.
Joe Atkins, a principal for VMDO, the architectural firm for the project, said the groundbreaking ceremony was one of "the most thrilling and exciting" ones he's been to.
"To see the chancellor step into the heavy machinery and knock part of the building down is quite a sight—a good way to start the project," he said.
He said his firm has worked to ensure the library is a perfect fit for Liberty University students.
"One of the exciting things about the library, which will be the cornerstone of this new academic commons, is that there are a couple other buildings that will frame up a nice college green right behind DeMoss. … I think people will be surprised at how much this campus will have changed in two to three years."
The $50 million project was announced in October 2011 and is part of a quarter of a billion dollar campus transformation planned in the next five years. It is set to open for the Fall 2013 semester.
Laura Burt, a junior at Liberty, carried away a souvenir of the occasion – a brick from Chancellor Falwell's demolition job.
She said students are excited about the new library.
"It will be so good to have a new focal point on the campus; it's going to be so attractive, and … it's just meaningful (to be named after the founder)."
Liberty University, located in Lynchburg, Va., is the world's largest Christian university. More than 12,000 students attend classes on its 6,500-acre residential campus and more than 65,000 study in its thriving online education program.