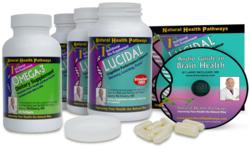 Great product to keep your mind young and sharp.
Seattle, WA (PRWEB) March 08, 2012
DNA Response, Inc. provider of multi-channel e-commerce, marketing and order management solutions, announced today that it has launched the Lucidal.com online store in partnership with the creative agency Envision Response. The new store includes the next generation e-commerce technology allowing consumers to purchase Lucidal products instantly within a highly optimized single page site specifically designed for the Direct Response TV industry. In addition, DNA Response processes credit cards in real-time and ships orders within 24 hours, ensuring that most consumers receive their orders within 2 to 5 days. Lucidal.com site contains information about the product, including its benefits, science behind it and success stories from real customers.
Developed by Dr. Larry McLeary, a neurosurgeon, Lucidal's Cognitive Performance Enhancer is a clinically tested nutritional supplement proven to boost brain performance. It sharpens mental focus and concentration, enhances thinking speed and clarity and increases mental energy and alertness. This supplement contains 50 important vitamins, minerals and plant based ingredients that enhance the function of individual nerve cells and increase the speed that neurons communicate with each other to help the brain work better, faster and more efficiently.
Lucidal's ingredients are safe and effective. There are no stimulants in this product, so the users won't feel jittery or wired. Instead, people say they feel calm and focused with Lucidal, with the ability to get more out of life.
"This is a great product to keep your mind young and sharp," said Ranjit Mulgaonkar, CEO of DNA Response. "As we age, it is important to eat a healthy diet and play mind games to keep the brain functioning at a high level. Lucidal is an effective addition to fight memory loss."
"As a neurosurgeon, I recognized and addressed the need for a brain health supplement that enhances mental function. I combined appropriate amounts of vitamins, minerals and plant based ingredients that work synergistically to turn on and turn off various metabolic pathways. We are excited that in clinical testing Lucidal achieved statistically significant improvement over placebo in how rapidly you think, focus, remember and learn, and even improved parameters of emotional well-being," explains Dr. Larry McCleary, Lucidal's developer, patent holder and author of the book Feed Your Brain Lose Your Belly.
About Natural Health Pathways.
Natural Health Pathways develops and distributes scientifically based, clinically tested nutritional supplements. Its current patented products include Lucidal, which improves various parameters of mental function, Bonexid, which supports bone health by improving calcium retention, increasing bone build up and decreasing bone breakdown and VitaLoss, which promotes weight loss.
About DNA Response.
DNA Response, Inc. (DNA) provides turnkey e-commerce, online marketing, and order management services to companies in the $300 Billion direct response market. DNA clients sell products direct to consumers using TV, radio, print catalogs, web and mobile as their sales channels. DNA's ECOM2TM platform utilizes state-of-the art cloud computing technologies and services to improve operational efficiency by reducing transaction costs, eliminating credit card declines, and lowering order cancellations and product returns, while simultaneously increasing online revenue for our clients. DNA provides universal order management for processing orders in real time from all the sales channels with full visibility to the business for the clients. DNA generates incremental revenues and helps build a brand for our clients by providing comprehensive e-commerce and online marketing services.
###