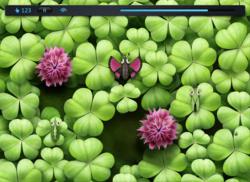 Funny Beat is a simple and amusing musical game that anyone can pick up and play in seconds.
Cupertino, CA (PRWEB) March 08, 2012
Rhythm gaming just got more challenging in Funny Beat, the new iPad game from Fairy Hat that features lovingly animated graphics from designer Alexey Yuzik. Featuring Piranhas jumping in time to football chants, butterflies tapping out Oh Susanna and Worms appearing from the ground to the rhythm of Happy Birthday, the aim of the game is for users to touch the characters as they appear at various positions on-screen, scoring points when completed in-time to the selected beat.
An additive challenge, gamers can customize the experience by selecting from 40 different 'beats' - rhythm patterns that determine the frequency of taps required - as well as choosing from 5 different characters and locations and 10 levels of difficulty, ranging from slow one-finger rhythms to an advanced level that will challenge even the very best players. Game time can also be determined and high scores for each scenario are automatically saved, ensuring repeated plays to reach the top of the leaderboard.
Suitable for iPad gamers of all ages, Funny Beat has particular benefits for children who can improve their sense of rhythm, reaction time and motor activity development as they are transported into another world by the loveable characters and quirky, yet polished, design style.
"Funny Beat is a simple and amusing musical game that anyone can pick up and play in seconds," commented Alexey Yuzik of Fairy Hat. "It's easy to adapt the experience to create an addictive challenge for any gamer, whilst transporting users to a surreal and quirky world that children will love."
Funny Beat, the fun rhythm game that is suitable for users of all ages, including children, is available in the App Store for iPad at: http://itunes.apple.com/app/funny-beat/id504533950?mt=8.
For more information or media inquiries, contact Mark Johnson of appshout! on behalf of Fairy Hat at +1 408 757 0086 or press(at)myappshout(dot)com.
About Fairy Hat
Based in Ukraine, Fairy Hat's goal is to make the world a little more magical.
Founded by experienced and talented designer Alexey Yuzik, Fairy Hat focus on ensuing their unique and intriguing approach to design and detail is present in everything they do.