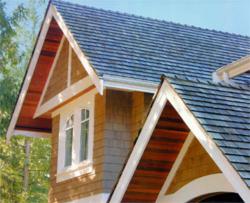 Choosing a roof can be complicated. Thankfully there is now an indoor roofing showroom in Vancouver with knowledgeable roofing specialists on hand
Vancouver, BC (PRWEB) March 09, 2012
Affordable Quality Roofing Vancouver is giving us a reason to celebrate this month. A new showroom floor is being unveiled in North Vancouver on Friday March 30, 2012, and they have decided to share the occasion by welcoming trade professionals to join them for an evening of finger foods and talking shop.
The event is certainly worthy of some excitement. Vancouver is well known for it's wet temperate climate, making it one of the most beautiful places in the world to live. This same climate can wreak havoc on our roofs however. The roofing industry has gone through many changes over the years as a result. Manufacturers are constantly introducing new products, or refining on existing ones, promising to provide the perfect solution.
It's nice to have choices, but unless you're keeping up to date, it can be a little daunting to choose the right material for your new roof. The new showroom from Affordable Quality Roofing promises to smooth out the whole process. Not only will they have many materials on display for you to look at, but their trained and experienced staff will be on hand to answer any questions you might have.
The opening night celebration is open to professional trades people, architects, and developers from the Vancouver area by RSVP.
Event Details:
Friday March 30, 2012
5pm - 7pm
520 Mountain Highway
North Vancouver
RSVP:
Phone - (604) 984-6560
Online - VanRoof.com
About Affordable Quality Roofing:
Affordable Quality Roofing has been operating in the Greater Vancouver area since 1986. They have been voted Vancouver's best roofing contractor, and stand by their service by offering a 25 year guarantee on labour and workmanship.
Contact:
520 Mountain Hwy
North Vancouver
BC, V7J 2L4
(604) 984-9004