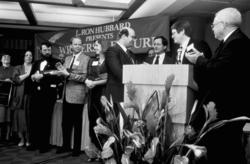 Hollywood, CA (PRWEB) March 09, 2012
Science fiction was referred to as the "herald of possibility" by L. Ron Hubbard, founder of the Writers of the Future Contest. That it was the Writers of the Future awards ceremony in April of 1987 where famous writers of science fiction and award winning scientists placed their future vision in a time capsule to be opened in April 2012 seemed appropriate.
Predictions for the question, "What will life be like in 2012?" from such famous authors as Isaac Asimov, Algis Budrys, Orson Scott Card, Larry Niven, Frederik Pohl, Jerry Pournelle, Tim Powers, Robert Silverberg, Jack Williamson, Gene Wolfe, Dave Wolverton and Roger Zelazny, along with Nobel Prize winner in Physics, Sheldon Glashow, and Columbia University physicist, Gerald Feinberg, will be unveiled from the stage to all attending the L. Ron Hubbard Achievement Awards ceremony.
The event takes place at 6:30 PM on April 15, 2012 at the historic Wilshire Ebell Theatre, Los Angeles, CA. The time capsule will be opened and the entire contents displayed for all to see following the ceremony. RSVP to contests(at)authorservicesinc(dot)com or call 323-466-3310.
The Writers of the Future writing contest (http://www.writersofthefuture.com) was initiated by L. Ron Hubbard in 1983 to provide a means for aspiring writers to get that much-needed break. Due to the success of the Writing Contest, the companion Illustrators of the Future Contest was created in 1988.
The intensive mentoring process has proven very successful. Past winners of the Writing Contest have published over 750 novels, 3,500 short stories and winners of the Illustrating Contest have had their art published in more than 500 books and magazines, with 4,500 illustrations, 350 comics and over 1.3 million art prints.
For more information go to http://www.writersofthefuture.com or http://www.facebook.com/WritersAndIllustratorsOfTheFuture
To see the awards ceremony online, go to http://www.youtube.com/writersofthefuture