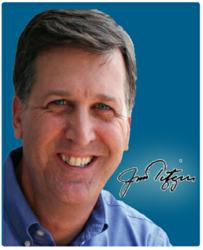 This program has exceeded our expectations and we're now convinced that we're just scratching the surface.
Richmond, VA (PRWEB) March 12, 2012
Jim Fitzgerald, President and CEO of Taradel LLC, is featured in this month's issue of Deliver Magazine, the popular direct marketing publication produced by the USPS. In the article titled, "The Million Door Mark," Fitzgerald's company is profiled for producing "more than one million pieces for the Every Door Direct Mail™ program." Even more exciting, Taradel has more than doubled those numbers (producing and mailing nearly 2.5 million pieces via the USPS) since the article was published.
Based in Richmond, Fitzgerald's Taradel LLC is now the country's leading provider of turnkey Every Door Direct Mail™ solutions. With more than twenty-five thousand small business accounts, Taradel understands the needs and challenges facing independent restaurants, medical practices, and other small to medium-sized business operations across the country.
Fitzgerald said: "I'm a small business owner myself and I love listening to other small business owners share their stories about their successful mail campaigns. This program has exceeded our expectations and we're now convinced that we're just scratching the surface. Going forward our mission is to take this powerful medium to millions of small businesses across the country."
With unparalleled EDDM™ experience, small business owners are flocking to Taradel to launch their own targeted EDDM™ campaigns - all at the lowest rates in the industry. In a recent video testimonial posted to YouTube.com, small business owner Tom Nuscis (Pappy's Pizza, NJ) summed up his remarkable EDDM™ experience using his smart phone camera.
"Everybody that receives them (print offers) takes a look at them. To date, from last year, our sales are up forty-seven percent. We're going into our sixth campaign starting this Super Bowl."
Taradel's success is largely a result of Fitzgerald's innovative approach to print advertising. By developing the first point-and-click online targeting tool, the entrepreneur skyrocketed Taradel to industry-leader status.
Dubbed U-Select, the online mapping tool enables any business advertiser to type in an address and target nearby postal routes with one mouse click. Combined with easy online print options, Taradel has empowered millions of advertisers to launch direct mail campaigns, in less than ten minutes, from almost any web-enabled device.