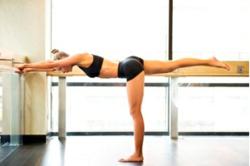 Stamford, CT (PRWEB) March 11, 2012
Exhale, the award-winning mind body studio, best known for Core Fusion® programming, has just opened its doors at Harbor Point, a dynamic new community that has transformed Stamford's historic South End with a unique mix of metropolitan vibrancy and waterfront beauty. Exhale Harbor Point marks the company's first facility in Connecticut and its eighteenth in select U.S. locations which include Manhattan, Bridgehampton, Boston, Chicago, Miami, Los Angeles, and Dallas in addition to Providenciales in the Turks and Caicos Islands.
Many around the city were eagerly awaiting the arrival of exhale, a revolutionary and widely acclaimed fitness destination. Honored with myriad awards and accolades, exhale has been named "Best Gym: Spa-Like Experience," by Fitness magazine (2010) and one of the six "Best Gym Spas" in New York by Time Out New York (2011), and was awarded "Best Workout: Core Fusion Cardio," by New York magazine (2010). Exhale has a loyal following of devotees, some of whom even tailor their travel itineraries around exhale studio locations.
Fashioned as a tranquil light-filled sanctuary, exhale's exquisite 9,000-square-foot Harbor Point venue features a Core Fusion® studio, yoga studio, Core cycling studio, stretching area, luxury mind body gym, and well-appointed changing rooms. There is also a wellbeing boutique stocked with exclusive fitness and yoga apparel, skincare, and other wellness goods.
Exhale Founder and CEO Annbeth Eschbach explains the principles behind the company's uniqueness and remarkable success, which began in 2003 with the opening of the New York location, now long a celebrity favorite. "Our philosophy is to provide our members and guests a truly transformative lifestyle experience through our focus on the mind body connection in our exclusive wellness programs."
"We're beyond excited to bring exhale to Harbor Point," said Paula Andrews, Manager of Guest Experience at the Stamford location. We invite everyone to come and visit our beautiful new facility, where our professional staff includes over 30 associates offering 68 weekly classes."
"The arrival of exhale mind body studio brings one of the country's premier health and wellness studios to Harbor Point," notes Carl Kuehner III, CEO of Building and Land Technology, the Stamford-based real estate developer behind Harbor Point. "Area residents, business professionals, and visitors now have an array of world-class mind body programming right at their doorstep."
Exhale Harbor Point is open Monday through Friday from 6:00am until 9:00pm, and on Saturday and Sunday from 8:00am until 8:00pm. Right by the waterfront, only two blocks from the Stamford Transportation Center and Interstate 95, exhale is located at 2200 Atlantic Street, entered from Washington Boulevard, in the heart of Harbor Point. The perfect complement to Harbor Point's stylish residences, Class-A offices, shops, and restaurants, exhale is the first of many businesses set to open here within the next two months, which include Harlan Social, Le Pain Quotidien, Subway, Walgreens, and First Niagara Bank.
Exhale Harbor Point offers monthly memberships, class packages, single class rates, private training sessions, and special workshops and events at its new Stamford location. For more information, please visit exhale Harbor Point or visit the website at exhalespa.com.
About BLT
A second-generation real estate development company, Stamford-based Building and Land Technology (BLT) has completed ventures worth more than $3 billion including over 4 million square feet of commercial development and 4,000+ residential units. BLT trophy properties host the headquarters for Starwood Hotels & Resorts Worldwide, Gen Re, GE Commercial Finance, Diageo, GE Real Estate, Xerox, GE Energy Financial Services, IMS Health, Hewitt, Cornell University Veterinary Specialists, Design Within Reach, and Louis Dreyfus Highbridge Energy. BLT's numerous office parks, apartment complexes, single family subdivisions, common interest communities and adaptive reuse projects total in excess of 8,000,000 square feet of development throughout Fairfield County. BLT is the developer of Harbor Point, one of the nation's largest redevelopment projects – http://www.harborpt.com.
BLT is led by brothers Carl & Paul Kuehner, who have worked closely together for more than 20 years. Carl serves as Chief Executive officer, while Paul is the President of BLT. BLT has a vertically integrated multi-disciplinary team that can take on every aspect of a complex project, and includes experts in planning, entitlement, design, construction, leasing, management, marketing and finance.
About exhale
Since its inception in 2003, exhale has earned a position as the leading lifestyle brand in the spa and wellness space. exhale offers unparalleled, transformational mind body programs within an inspiring yet relaxing spa setting. Continuously delivering best-in-class spa therapies and yoga and core fusion classes, exhale currently operates 18 properties and plans to grow its well-being paradigm in prestigious and philosophically aligned resorts, residential hotel developments and strategic partnerships.