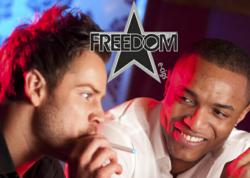 We have recently seen a massive rise in sales and customer retention as our plans are starting to come to fruition
(PRWEB) March 12, 2012
Most people have used, heard of, or come in contact with electronic cigarettes by now. The rise of this fledgling industry in the past year has been meteoric as hundreds of new electronic cigarette brands are popping up everywhere. There has also been a wealth of news, good and bad, as the media spotlight shines on this fast growing industry.
Freedom, one of the UK's largest brands is experiencing a surge in retail and wholesale demand. Freedom's raison d'être is to provide smokers with a real and more sociable alternative to smoking tobacco cigarettes. Listening and understanding customer needs is also high on their agenda. During last summer they ran experiential concession stands in four of London's major stations where they collected thousands of smoker's views on flavors, sensation and product. This information, coupled with good business practice, has helped their aggressive acquisition of UK market share.
Nigel Quine, business development director of Freedom Cigarettes, commented, "We have recently seen a massive rise in sales and customer retention as our plans are starting to come to fruition. Our success in this market has been down to a large amount of customer input, test drives and constantly improving product and procedure. At present, we are looking for larger premises to cope with increasing demand."
"The next year is crucial for our company as the market is becoming more saturated with many smaller operators nibbling away at market share, as well as major competitors with large investment behind them. Our new range and website, to be launched next month, will take the UK market by storm, offering customers a better quality total product than ever before. I think 2012 will be a very exciting year for Freedom cigarettes!"
Freedom Cigarettes use the most modern electronic cigarette technology and are members of the Electronic Cigarette Industry Trade Association.