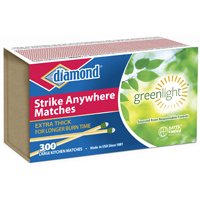 Questions about Strike-Anywhere Matches have actually spurred debates online, and a wave of confusion in blogs
Destin, FL (PRWEB) March 10, 2012
There is much debate over the legality of "Strike Anywhere" Matches. Strike Anywhere Matches, made by manufacturer Jarden Corporation, and marketed under the "Diamond" brand, have come to be known as premier matches for camping, outdoor use, and emergency/survival situations. Many stock up before a family outing, while others incorporate a box into their self-made "Survival Kit". Strike Anywhere Matches have been around since the early 1830's, and were one of the first types of conventional match. Not until recently has there been controversy surrounding the product, and Disaster Relief Supply, an emergency preparedness store based in Destin, FL, is in the middle of it.
Why have people become so weary of the Strike Anywhere Match? Many stores have policies against carrying the matches, and they are classified as "Dangerous Goods" on both passenger aircraft and cargo-only aircraft flight ("U.N. 1331, Matches, strike-anywhere"). The chemicals used in the matches are known to be utilized in both methamphetamine production, and bomb making.
With the known applications of, and the policies against these fire-starters, many question their legality. "Questions about Strike-Anywhere Matches have actually spurred debates online, and a wave of confusion in blogs, answer sites, and retail stores including my own" says Mike Fisher, General Manager of Disaster Relief Supply. According to the manufacturer of Diamond Strike Anywhere Matches, the confusion is unwarranted. A quote taken from UnluckyHunter.com, a hunting-based blog, clarifies the issue with an email response from a "Jared Home Brands" representative.
"We are unaware of any state laws prohibiting the use of strike anywhere style matches at this time."
Sincerely,
Jarden Home Brands
http://www.diamondbrands.com/
It seems for now, Strike Anywhere Matches are not at risk of going the same way as lead paint or mercury thermometers. Although the law is on the side of manufacturers like Jarden, the debate endures, and consumers continue to stock up. Stores like Disaster Relief Supply have seen this demand, and are securing the product on their shelves. Fisher has seen this as an important issue since the opening of his store in August, 2011. "We have people coming in shocked that we supply Diamond Strike Anywhere Matches, buying 2 or 3 boxes at a time. We've been told that we are the only store in the county that has them".