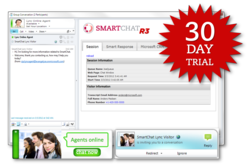 For organizations planning to or already using chat software such as Live Person, SmartChat R3 offers unparalleled functionality through the extension of UC software providing a prime example of CEBP", says Joe Schurman, Founder and Chairman of EC.
Houston, Texas (PRWEB) March 12, 2012
SmartChat R3 clearly differentiates itself from the competition though by enabling an organization to respond instantly to online Web Visitor Chat requests through the Microsoft Lync client application connected to both Microsoft Lync Server 2010™ and Microsoft Lync Online, the most recent addition to the Microsoft's Office 365™ platform, offering advanced functionality such as Click-to-Call voice communication, Drag-n-Drop access to include additional users to the chat session, Lync add-on support for the Conversation Translator and "IM an Expert" service, but most importantly, providing a greater return on investment for organizations who have invested in the Microsoft Lync platform by removing the need for third-party Web Chat or Contact Center software.
SmartChat R3 also provides a Plug-in application interface enabling organizations to enhance the SmartChat End-User's experience through the Microsoft Lync client by adding integration to applications and systems such as CRM (Customer Relationship Management) applications, Mapping and Geo-location services, Logistics & Tracking, and Customer Support and Helpdesk ticketing software through Microsoft Visual Studio. Existing Microsoft Dynamics CRM™ customers are provided with a SmartChat Plug-in for Dynamics CRM Online™ & On-premise services to allow SmartChat R3 Lync End-Users to view, edit, and insert Web Visitor data into their existing customer management systems.
"SmartChat enhances the Microsoft Lync client by enabling out-of-the-box functionality to support scenarios ranging from sales inquiries to customer service and helpdesk support, while maintaining the ability to communicate and collaborate through IM, Video, Voice, and Web Conferencing company-wide, between federated organizations, and to Public IM networks. Through Microsoft Visual Studio, we have built libraries of Plug-in applications to provide additional packaged functionality to the client as well as have provided a framework for application developers to create their own SmartChat Plug-ins", says Yves Zouzouambe, Director of Software Development.
Initially targeted for retail organizations, who offer web-based chat via their customer-facing websites, SmartChat has been equally popular with organizations in every vertical industry including several Fortune 500 organizations in the Financial Services, Healthcare, Travel & Transportation, and Government as well as deployed for Helpdesk and Customer Service and Support scenarios replacing and enhancing expensive Contact Center software.
"As a result of over 24 months of positive and creative interaction with our existing and prospective customers, we believe we have successfully re-designed an already superior web chat product that fully meets the needs (and the wants) of the customer. Early customer response to SmartChat R3 has overwhelmingly exceeded our own expectations, creating great interest on a global scale, including several Fortune 500 and Global 1000 organizations. As a result of the high interest level in this solution, we are simultaneously broadening our focus on strategic partnerships and reseller relationships internationally to support our expanding sales, support, and marketing efforts. I am excited about the SmartChat R3 release and what it will do to assist our customers in growing their businesses", says Tim Forkner, Director of Sales.
SmartChat R3 is available for order today in addition to a Free 30-day trial of the software available through the Evangelyze Communications (EC) website via http://www.evangelyze.net. With the SmartChat R3 release, EC is also extending and offering new partnering services and reseller opportunities to channel and services providers to offer the SmartChat R3 platform with significant margin opportunity.
About Evangelyze Communications
Evangelyze Communications (EC) is a Featured Unified Communications & Collaboration (UC&C) applications development and consulting services firm. The Evangelyze Communications (EC) SmartSuite portfolio of Unified Communications products provide organizations within any industry vertical the capability to enable communications and collaboration modalities within their unique lines of business and the Evangelyze Communications (EC) professional services team provides the architecture and design consulting services to ensure that their infrastructure and application architecture is finely tuned to enable an innovative unified communication and collaboration system.
Evangelyze Communications (EC) has been featured via global media through CNN, MSNBC, Wall Street Journal, NBC, Fox Business Network, and throughout the web as a successful Microsoft BizSpark™ startup organization since January of 2008. EC has been featured in many vendor, partner, and EC specific press releases and EC leaders have been featured through web articles, press and analyst interviews, and via live television on the Today in America Show with host Terry Bradshaw as well as the NBC Business Makers Show with host Russ Cappers.