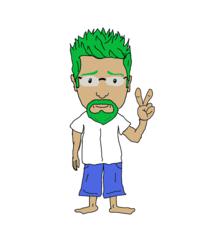 "Green Dan the cartoon version is simply my dad with green hair and a green beard." Sarah Marsh
Canyon Lake, TX (PRWEB) March 13, 2012
Green Dan, LLC announces sales of the book titled Green Dan Says! 'Renewable Energy is Cool' for iPads and iPhones is nothing short of incredible with sales doubling and tripling as months pass. Author Dan Marsh, aka Green Dan is dedicated to educating children on renewable energy and energy conservation with the first book being a simple, easy to read, colorful introduction to renewable energy. The Green Dan series is perfect for elementary school teachers!
Green Dan's cartoon character was created to help children ages 8 & up learn about the different types of renewable energy now available and being developed. Dan Marsh said "I felt the best way to educate kids on renewable energy was to create a fun and easily identifiable character kids could relate to in order to spread the message." After showing some ideas to his daughter Sarah Marsh in Austin, TX, Green Dan the cartoon character was born! Sarah said, "Green Dan the cartoon version is simply my dad with green hair and a green beard." Sarah also commented regarding the fact Green Dan doesn't have any shoes on was no accident. Sarah's said, "He loves going barefooted!"
Dan Marsh, renewable energy advocate, inventor, children's educator and author practices what he preaches too! Dan's comments on this was the fact he was shocked on how many people teach solar classes, and run around talking about how great renewable energy technologies are but don't utilize any of it on their own homes.
Dan is proud of the fact his home has a 1kW vertical axis wind turbine, more than 3,800 watts of thin-film PV, (grid-tied w/ battery back up) solar hot water for home heating, solar hot water for domestic uses and an experimental ground source heat pump.
Green Dan's next books in the series will cover individual subjects like,
Wind Power
Solar Electricity
Solar Hot Water
Bio Fuels
And more!
For more information, please visit the website at http://www.GreenDan.us
When you get there, click on 'News' to see what's been going on.
Green Dan, LLC
511 Lasso Loop
Canyon Lake, TX 78133
210-373-5770