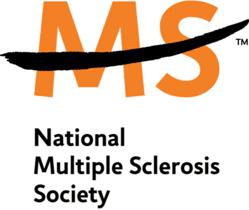 Give What You Know At MSconnection.org
New York, NY (PRWEB) March 12, 2012
Multiple sclerosis is a life altering disease that affects each person in a unique and different way. MS destroys connections, divides minds from bodies, pulls people from their lives and away from one another. Therefore, it's only fitting that connections would be its greatest enemy. As more connections are formed, more knowledge is shared, more questions asked, more resources gathered, and more hope is provided to help people with MS move their lives forward.
Connect during MS Awareness Week
People impacted by MS are connecting all across the nation during Multiple Sclerosis Awareness Week March 12 – 18 to combine their efforts, knowledge and hope in order to move us closer to a world free of multiple sclerosis.
The National MS Society is a prominent force in forging connections among people with MS, friends and colleagues who raise awareness and funds, people who treat those with MS, and people who research ways to stop MS, restore function lost to MS and end MS forever. This has helped move MS in less than two decades from being an untreatable disease to one where there are at least eight treatment options for those with relapsing MS, the most common form of the disease. And there are now even more new therapies speeding through the pipeline offering hope to people with all forms of the disease.
This MS Awareness Week and beyond, find the power of connection and visit http://www.MSconnection.org. Just some of the opportunities you will find are:

MS Connection – a new community all about making meaningful connections – when, where and how you want. Visitors and members will learn about topics that are important to them, connect with people they want to connect with, have expert MS information and opinions at their fingertips, and join or start groups and discussions of their own.
Give What You Know - share your story and connect with others at http://www.MSconnection.org. You can create your own video story, download web banners, register to participate in Walk MS or Bike MS or some other special event near you. Whether you volunteer, bike, walk, advocate, educate, or support – every action is a way of moving us closer to a world free of MS and shows your commitment to the MS movement.
Tweet & Learn - the Society and Teva Neuroscience are co-sponsoring on March 14, at 8 pm ET, a Twitter Conference with Ambassador and country music legend Clay Walker and Dr. Gabriel Pardo, Chair of the National MS Society, Oklahoma Clinical Advisory Council and member the National Clinical Advisory Committee. Use #MSconnection hash tag to participate.
Other Opportunities to Connect – You can build connections, view and share images, video, and stories about your connections on the Society's Facebook page. http://www.facebook.com/nationalMSsociety . If you tweet you can give what you know using the #MSconnection hash tag.
This is just the beginning of the year-round MS Awareness building efforts that launch March 12:

New Public Awareness Campaign - the Society is introducing a multi-channel Public Service Awareness Campaign : MS Kills Connection > < Connection Kills MS which features real people living with the effects of MS. Included in the campaign will be Meredith Vieira and Richard Cohen as well as Noah"40" Shebib, the charismatic 28-year old producer and song writer who is a major contributing force to the rapper Drake's meteoric rise to fame. Society PSAs will be spotlighted free on three mega-electronic billboards in Times Square during MS Awareness Week. The unique and powerful campaign was developed pro-bono in partnership with the renowned advertising agency Wieden+Kennedy. It was shot by the award-winning portrait photographer, Martin Schoeller.
Pure Protein Battle of the Champions – MS awareness will be front and center during the Pure Protein Battle of the Champions in the "College Slam Dunk & 3-Point Championships," an annual event held in the Final Four city each year, which this year is New Orleans. During the 24th annual ESPN broadcast, college basketball's best male and female shooters will go head-to-head to see who can sink the most 3-pointers and earn bragging rights. Pure Protein, a longtime national partner of the Society, will donate $1000 to the Society for every shot made with the special Pure Protein/MS ball during the event. Tune in to ESPN from 9-11pm ET on March 29 to see these sharpshooters score for MS.
Orange broccoli – a new way to "eat your greens" --during the month of March, across North America, look for broccoli with the orange band "MS - Join the Movement." A product of Stamoules Produce, this healthy vegetable will not only serve to build massive awareness in major supermarkets across the country, the company will also donate a portion of the sales to support Walk MS.
Online Auction - on Monday, March 12 at 9 am ET, a two-week online auction will launch on Charity Buzz, where socially conscious consumers can bid on exclusive opportunities to doGOOD and liveWELL – and benefit the MS Society. Items will include: A meet and greet with Dr. Oz, a tour of Fox News with meteorologist Janice Dean, tickets to a taping of "Who Wants to be a Millionaire" which includes a meet-and-greet with host Meredith Vieira and much more. Log on to CharityBuzz.com from March 12-29 and visit the National MS Society's page to bid.
Caregiving survey - The National Alliance for Caregiving is releasing a survey they conducted with support from the Society looking at the physical, mental and financial burdens on family caregivers of people with MS which are revealed to be significantly greater than the general family caregiving population.
MS Awareness Week Highlights Across the Country

In Washington, D.C. - as a lead-in to MS Awareness Week, more than 325 volunteers have gathered for the Society's annual public policy conference and make nearly 400 visits on the Hill to advocate for funding that will help people with MS move forward their lives forward such as increased MS research funding at the NIH and the Department of Defense and continued funding of the Lifespan Respite Care Program.
In New York – members of the MS community will take over the Today Show Plaza on Wednesday, March 14; "flash freeze mobs" will appear at select areas in the city on the 13th
In California – the LA Clippers are hosting an MS Awareness Night, March 14
In Delaware and Utah - key buildings are going orange
In Georgia – an MS Service day has been coordinated with Home Depot to help complete needed tasks for families living with MS
In Missouri – there will be an MS Awareness Rally and participation in the St. Louis St. Patrick's Day Parade.
In Tennessee – lawmakers are being asked to "try on MS" to experience what living with MS means to their constituents
In Virginia – 2,773 orange flags will be displayed representing the number of people with MS served in a local community
"By our connecting enough small victories among those impacted by MS, we could win some really big ones that will end MS forever," says Cynthia Zagieboylo, president and CEO of the National MS Society.
About Multiple Sclerosis
Multiple sclerosis, an unpredictable, often disabling disease of the central nervous system, interrupts the flow of information within the brain and between the brain and the body. Every hour in the United States, someone is newly diagnosed with the disease. Symptoms range from numbness and tingling to blindness and paralysis. The progress, severity and specific symptoms of MS in any one person cannot yet be predicted, but advances in research and treatment are moving us closer to a world free of MS. Most people with MS are diagnosed between the ages of 20 and 50, with more than twice as many women as men being diagnosed with the disease. MS affects more than 400,000 people in the U.S. and 2.1 million worldwide.
About the National Multiple Sclerosis Society
MS stops people from moving. The National MS Society exists to make sure it doesn't. We help each person address the challenges of living with MS. Last year alone, through our national office and 50-state network of chapters, we devoted $164 million to programs that enhanced more than one million lives. To move us closer to a world free of MS, the Society also invested $40 million to support more than 325 new and ongoing research projects around the world. We are people who want to do something about MS now. Give what you know at http://www.MSconnection.org.