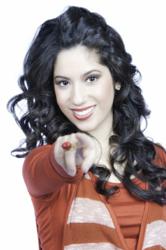 My desire has always been to reach people and to impact lives through music. Liberty University en Español has allowed me to earn my degree in psychology as I continue to pursue my dream of being a musician
Lynchburg, Virgina (PRWEB) March 13, 2012
Spanish speaking Christian music artist, Daniela Barroso (21) has emerged as an advocate for Hispanic education by earning her degree through Liberty University en Español.
As a young, blossoming artist from Santa Cruz, Bolivia, Barroso has shared the stage with many well-known Latin Christian artists, including Jesus Adrian Romero, Ricardo Rodriguez, Lilly Goodman and Marcela Gandara and is blazing her way through the Christian performance industry. Expanding her horizons even further, she decided to continue her education through Liberty en Español.
Pursuing an Associate of Arts in Psychology, Barosso enrolled in courses with Liberty en Español this spring.
According to Barroso's website, she emerged as one of the revelation singers of this new generation, who not only created an impact through her influential music and powerful voice, but also through living a life that captures passion for God and for spreading the gospel through music.
"My desire has always been to reach people and to impact lives through music. Liberty University en Español has allowed me to earn my degree in psychology as I continue to pursue my dream of being a musician," Barroso said. "The flexibility of an online degree lets me maintain my responsibilities and commitments as a singer. My courses go beyond the materials and provide a Christian perspective."
As a role model to her culture, Barroso is impacting her community by spreading her Christian testimony while highlighting the importance of Hispanic education.
Liberty University en Español Executive Director, Orland Lobaina, expressed his excitement on behalf of the university in welcoming Barroso to the Liberty family.
"We are pleased to have a leader within the Latin community as a role model for others regarding the importance of higher education. We look forward to working with Daniela, as together we strive to Train Champions for Christ," Lobaina said.
As part of the world's largest Christian university, Liberty University en Español is the first program of its kind in the United States, offering eight accredited , Christian, bilingual programs from the certificate to master's level with fully-bilingual professors and staff.
The flexibility and convenience offered allow students, regardless of where they live, to balance work, family and school to improve their quality of life through education. Through the convenient format of Liberty en Español, Barroso will earn her online degree, while continuing to pursue her career and passion for music.
"Liberty en Español is truly Training Champions for Christ! The online community of Liberty en Español has been a wonderful experience in that its flexibility allows me to maintain my responsibilities and commitments as a singer. It is a blessing for my life," Barroso said.
About Liberty University
Liberty University, located in Lynchburg, Va., is the world's largest Christian university. More than 12,000 students attend classes on its 6,500-acre residential campus and more than 65,000 study through its thriving online education program.
###