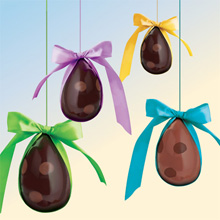 Despite the fact that mass-market chocolate Easter eggs dominate the market, you don't need a king's ransom to find something more unique at your favorite local chocolate shop.
(PRWEB) March 15, 2012
Eggs are a symbol for new life, the essence of nature's determination that winter will end and spring come forward with its pastel promise of natural abundance. "And when the eggs are made of chocolate, you know Easter can't be far behind," says Pam Williams, Founder and Head Instructor at Ecole Chocolat Professional School of Chocolate Arts.
According to a new report by Leatherhead Food Research entitled Innovation in the Global Confectionery Market, "The U.S. has the world's largest market for Easter confectionery, with sales worth an estimated $2.15 billion in 2011. Almost 80% of the country's population routinely buys chocolate and confectionery during this time of year, with chocolate featuring in over 90 per cent of Easter baskets prepared in the U.S. " The report also notes that chocolate eggs "continue to represent the market's main sector."
"There is some dispute about the origins of the use of eggs as a symbol for Easter; some believe it derives from long-ago pagan practices while others say it heralds back to medieval times when consumption of eggs was strictly forbidden during the 40 days of Lent. Having eggs return to their menus was cause for celebration, hence the custom of having lots of brightly colored and decorated eggs when Lent ended on Easter," says Williams.
What's beyond dispute is that chocolate eggs are the favored form today for eating at Easter, and the world's artisan chocolatiers are hard at work creating beautiful chocolate eggs both large and small. According to Chris Osburn of the Food Network UK, the most expensive Easter egg ever – the Diamond Stella Egg – was created in London in 2006. "This 60cm tall chocolate egg cost purportedly $100,000 to make and featured 100 half-carat diamond studs. . .the work of Knightsbridge jeweler Neil Duttson of Duttson Diamonds for La Maison Du Chocolat's flagship Piccadilly shop."
Most artisan chocolatiers are crafting equally beautiful but more down-to-earth eggs, says Williams, noting that Easter is one of the busiest times of year for chocolate manufacturers.
"Despite the fact that mass-market chocolate Easter eggs dominate the market, you don't need a king's ransom to find something more unique at your favorite local chocolate shop," she says. "They make unique gifts; for example, some chocolatiers create large, real chocolate eggs that open up to a selection of their most popular bonbons. It's a sweet way to celebrate spring as well as Easter," she says.
Nielsen Wire, meanwhile, says Easter consumption of chocolate exceeds that at Valentine's. "Nearly 71 million pounds of chocolate candy is sold in the week leading up to Easter, compared to approximately 48 million pounds sold during Valentine's week," says Nielsen.
And, says MyWebGrocer – leading provider of online grocery services – the biggest increase in Easter chocolate spending is in the specialty or "gourmet" chocolate sector. MWG researched chocolate sales in the four weeks leading up to Easter in 2008, 2009 and 2010 and found that both volume and dollars sales of high-end chocolate doubled in 2010 over the previous year.
Easter falls on the first Sunday after the first full moon following the spring equinox and this year will fall on April 8. Although the tradition of giving chocolate eggs as Easter presents began in France and Germany during the early 19th century, it wasn't until years later that chocolate makers across Europe were able to produce chocolate that could flow into molds and the mass-market chocolate Easter egg was born, making the traditionally toothsome treat available to everyone, young and old. Cadbury was one of the first to exploit the new chocolate technology and came out with its first mass-market egg in 1875.
But chocolate is definitely going more upscale than ever. "As consumers become more health- and quality conscious, it's apparent that they prefer to spend their money on the gorgeous creations done by the nation's many artisan chocolatiers," says Williams. "Italy has long been a dominant player in the fancy chocolate Easter egg market, and this year, even such high-profile fashion houses as Robert Cavalli and Armani are offering exquisite chocolate eggs," she notes.
Founded in 2003, Ecole Chocolat Professional School of Chocolate Arts offers a portfolio of programs for chocolate making – mastering techniques while gaining the expertise and business knowledge needed to become a professional chocolatier or chocolate maker. Ecole Chocolat's founder Pam Williams is the recipient of the Award of Excellence in Service to the Industry from the Fine Chocolate Industry Association. See our website: HYPERLINK http://www.ecolechocolat.com