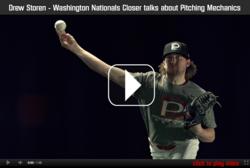 Drew Storen, has trained on the Pitchers Power Drive for 2 ½ years
Boston, MA (PRWEB) March 13, 2012
"This past December we completed a scientific study and Pitchers Power Drive product review on comparing professional pitchers mechanics using one of the most advanced digital cameras the Phantom Flex High Speed Camera System which filmed pitch delivery at 1,000 frames per second," said John Miller, president of Pitchers Power Drive. The Phantom Flex offers an unprecedented degree of flexibility in all areas of high-speed image capture and goes beyond HD to support 4-megapixel imaging when the highest resolution is required.
Drew Storen, professional pitcher in Washington DC who has trained on the Pitchers Power Drive for 2 ½ years since being drafted 10th pick in 1st round of the 2009 MLB draft pitched for the comparison. The goal is to help teach youth and high school pitchers to use their stronger lower body muscles to pitch with," said Miller. It is very important for pitchers to learn at a young age to initialize their delivery from knee lift when departing from the rubber by using their hips. It is equally important at older levels to maximize velocity potential and to take the stress off the arm and shoulder. Drew and other professional pitchers have gained power and velocity with training on the Pitchers Power Drive. This visual scientific comparison will be a great example for youth and high school pitchers to study, how professional pitchers use their hips in their delivery to generate the most force and power, said Miller. Drew pitched on and off the Pitchers Power Drive while throwing baseballs live while the Phantom Flex camera captured both from the same angle and speed.
Learning visually is a powerful process that professional pitching instruction uses to teach proper mechanics. There are important steps to follow in a professional visual pitching analysis and comparison, Miller said. To be a science based comparison, the process should follow four principles:

First, both pitching comparisons must be throwing a baseball
Second, filmed from the same exact camera position and angle
Third, filmed with same camera at the same shutter speed
Fourth, both comparison pitchers must be locked at release point of the baseball
This scientific pitching comparison and Pitchers Power Drive product review will serve as an educational program for young pitchers as well as coaches and professional trainers. Learning to pitch with your stronger lower body muscles is essential to long term success, Miller said. We have posted the first of many future pitching comparisons on the "Why" page of the Power Drive web site. The educational program will focus on teaching proper hip lead and weight transfer with the pitchers back knee positioned over foot to set pitchers weight back. This allows the entire back leg and hip to move the pitcher's body powerfully away from the rubber into landing, Miller said. The Phantom Flex High Speed Digital Camera shows this hip lead used by professional pitchers. All Professional Pitchers with above average velocity shift their weight this same way for which the Pitchers Power Drive teaches. No drill, video or book can make the body feel what the Pitchers Power Drive does because you can throw 60 feet 6 inches to a catcher at 100% effort and the body can truly feel the power. Hearing the auditory "CLICK" and experiencing the kinetic feel is a multisensory learning process that teaches the mechanical skills required for development and success, added Miller.
About Pitchers Power Drive
Pitchers Power Drive is based in Holliston, Massachusetts. They are the developer of the US patented Pitchers Power Drive Professional / Collegiate model and the Pitchers Power Drive Youth model. The design of the Pitchers Power Drive comes from their extensive experience working with and training pitchers at the Winning Pitchers Baseball Academy. Pitchers Power Drive is a trademark of Pitchers Power Drive. To learn more about Pitchers Power Drive visit the Pitchers Power Drive website. You can also follow Pitchers Power Drive on Facebook, Pitchers Power Drive on Twitter, Pitchers Power Drive on YouTube, and on the Pitchers Power Drive Blog.