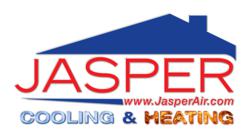 "We will be hiring 50 employees for the Jasper Air division," says Wedding. "Our technicians receive salary pay and do not work on commission."
Baton Rouge, LA (PRWEB) March 15, 2012
Jasper Air, a division of Jasper Contractors Inc, just announced new openings in Baton Rouge and New Orleans bringing 50 jobs to Louisiana. In early 2011, this division launched in Phoenix and eventually plans to expand throughout the United States.
"Because of our success with the Air division in Phoenix, we plan on opening locations in several of our Jasper Roof markets," says Brian Wedding, CEO of Jasper Contractors Inc.
According to the website, Jasper Air offers full service maintenance and installation to all residential and commercial heating and cooling clients. These HVAC services remain consistent with the Jasper brand. The company also provides energy efficiency packages, maintenance programs and repair and replacements due to hail damage. Jasper Air uses TRANE products and offers 24 hour emergency services.
Jasper Contractors Inc has been in business since 2004 and is rapidly growing throughout the United States. With the continued success of the company in 2011, Jasper Contractors is prepared to expand the Air division outside of Arizona.
"We will be hiring 50 employees for the Jasper Air division," says Wedding. "Our technicians receive salary pay and do not work on commission."
Jasper Air is an equal opportunity employer. For more information call 800-610-9403, visit http://www.JasperAir.com or http://www.facebook.com/JasperAir.
About Jasper Contractors Inc.
Jasper Contractors, a national contracting company headquartered in Baton Rouge, La., has offered exceptional services since 2004. With offices located in Atlanta, Baton Rouge, Chicago, Cincinnati, Denver, New Orleans, Salt Lake City, Phoenix and now Ft. Collins, Jasper has earned an excellent reputation as the go-to roofing specialists when it comes to residential and commercial asphalt roofing, low-slope roofing, and metal roofing for re-roof and new construction. Jasper launched the air division in Phoenix with plans to go national. All Company contractors are certified, licensed, bonded and insured. Jasper offers a no-cost roof inspection, helps navigate insurance claims, provides superb customer service and employs only highly-trained, highly-skilled roof installers.