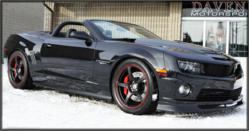 We wanted to build a true North American supercar that kept the balance and reliability of what you would get directly from a major auto manufacturer
Calgary, Alberta (PRWEB) March 14, 2012
After General Motors resurrected the Chevrolet Camaro in 2010, Calgary based automotive performance company Davenport Motorsports quickly set to work in developing a no compromise, ultra high performance version of the iconic muscle car. At the 2012 Calgary International Auto and Truck Show, two years of research and development will finally come to fruition when the Camaro supercar finally hits the showroom floor.
Dubbed the Camaro SC800, a reference to the vehicle's staggering 800 horsepower, the vehicle was developed and meticulously tested to balance performance, drivability, and long term engine life. At the heart of the vehicle is a specially modified 6.2L supercharged V8 paired to a 6-speed manual gearbox, which guarantees precise shifting thanks to a special twin disc clutch system.
To balance the performance of the vehicle's drive train, the Camaro has been equipped with a race bread suspension system from Pfadt Race Engineering and stopping power is provided by massive 15-inch Baer brakes. Davenport's objective in developing the well balanced suspension package was to equip the vehicle with handling characteristics to rival its European competitors.
"We wanted to build a true North American supercar that kept the balance and reliability of what you would get directly from a major auto manufacturer," says Davenport sales manager Namala Wijesooriya, "to do that a lot of testing went into the vehicle to make sure we get high end performance out of it while keeping the engine and drivetrain well within safe, long term operating parameters".
Expertise from Davenport's in house team of automotive technicians and performance drivers ensures unparalleled quality and on track performance. Each vehicle that Davenport tunes is individually tested and tuned using a special device called a dynamometer which allows technicians to measure power output and tune each engine to account for individual vehicle characteristics.
No detail has been overlooked and customers will be able to identify each Davenport Camaro SC800 by its GM Heritage Grill, custom embroidered headrests, billet aluminum SC800 badging, and Davenport nameplates throughout the vehicle.
Each of the exclusive supercars will be made to custom order and will be available in the 2012 model year.
The vehicle will make its debut at the Calgary International Auto and Truck Show where it will be on display from March 14-18, 2012.
For more information visit http://www.davenportmotorsports.com.
For more information contact:
Namala Wijesooriya
namala(at)davenportmotorsports(dot)com
(403) 274-7271